Short on the heels of Volvo's unveiling of their 60-ton articulated dump truck, Bell Equipment is showcasing a 60-ton prototype at the Bauma trade show that it expects will be in North America by year's end.
The B60E, directed at quarry and mining operations, will use a 4×4 all-wheel-drive configuration rather than the more typical 6×6, says Neville Paynter, president, Bell Equipment North America. "The shorter machine gives us a tighter turning circle and with only a single axle in the back, the tires are less prone to scuffing," he says.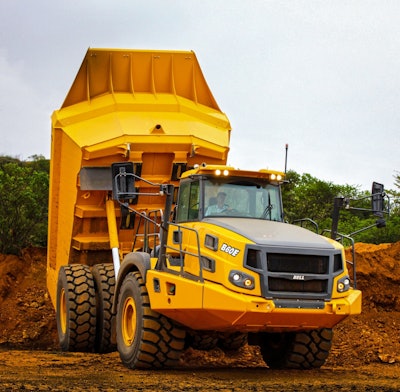 Bell says it adopted the two-axle concept of a rigid truck, which the B60E is designed to replace in some applications, with a driven front axle and independent front and rear chassis.
The back axle is a 70-ton Kessler truck axle, and the bed is wider than a typical ADT, resembling that on a rigid frame truck. Telescopic cylinders tuck under the bed to push it up in stages during the tipping process. A cradle supports the rear axle with struts being used to create shock absorption.
The B60E shares the same wheel track width and bed height as many rigid frame trucks, according to Bell. It is powered by a Mercedes Benz engine.
The B60E has been being field tested at African mines for the past 18 months, Paynter says. "We've seen a growing need at quarries and mines for a hauler that has more capacity and can travel rough terrain," he says. "Because of its added weight, it's the type of machine that would normally stay in one location. This gives operators the flexibility to use the machine in poor underfoot conditions."