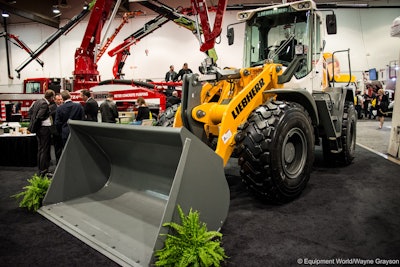 Though much of Liebherr's booth at the 2016 World of Concrete dealt specifically with concrete products (makes sense) the manufacturer did use the show as an opportunity to once again acquaint the North American public with one of its mid-size, or utility, wheel loaders.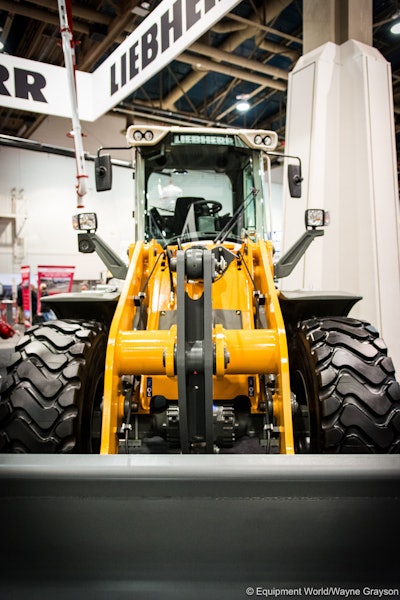 As the company did at the 2015 show, Liebherr displayed the 29,000-pound L538. The machine is powered by a 154-horsepower engine with a tippling load of 22,485 pounds.
Equipped with a 3.14 cubic-yard, quick hitch re-handling bucket with cutting edge bolt, Liebherr says the L538 "can be used in a traditional capacity, to stockpile or move earth/materials, or can be used to handle all types of construction material through the use different attachments."
The loader saves up to 25 percent more fuel than previous models thanks to the combination of hydrostatic drive and Liebherr's Power Efficiency System which uses working modes to optimize the interaction between drive components, adjusting power on a per application basis.
Another contributor to the machine's low fuel usage is the positioning of its engine. Liebherr explains:
"The engine is used as natural counterweight. The center point of gravity of the drive line components is behind the rear axle to avoid unnecessary additional counterweight. Less operating weight has to be carried around, therefore, less horse power is required. Subsequently, less fuel is consumed."