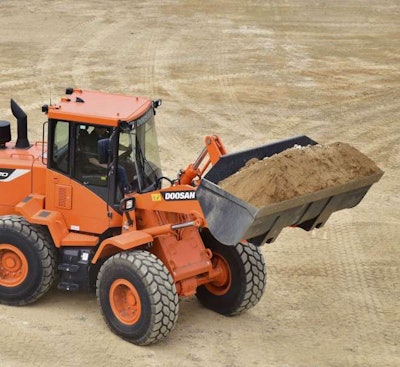 Doosan's new DL220-5 3-cubic-yard wheel loader, driven by a powershift transmission, has three selectable transmission modes. A vehicle control unit on the fully automatic transmission makes sure the engine computer and transmission control systems are in constant communication with each other, leading to reduced fuel consumption.
Replacing the dash-3 model, the DL220-5 has a 160-horsepower Doosan DL 06 diesel engine that does not require a diesel particulate filter. An optional high-lift Z-bar configuration extends the dump height 18 inches above that of the standard machine.
"This comes in handy when dumping into trucks and hoppers," says Aaron Kleingartner with Doosan. Limited-slip differentials are standard.
"This machine has intuitive controls, including a keypad on the dashboard," Kleingartner says. Additional cab updates include an adjustable steering column, a new fuel consumption gauge that indicates how much fuel the loader is using in real time and easily cleanable keypads.
A forward-neutral-reverse joystick control/gear selector continues to be standard, allowing operators to press joystick buttons to switch between forward, neutral and reverse without removing their hands from the controls.
The machine has additional oil sampling ports in comparison with the previous version; various fluid pressures are now viewable from the dash panel. The adjustable auto-shutdown allows operator to set the idle time (from 3 to 60 minutes) before auto shutdown. Two rear LED lamps provide better visibility in low-light situations.