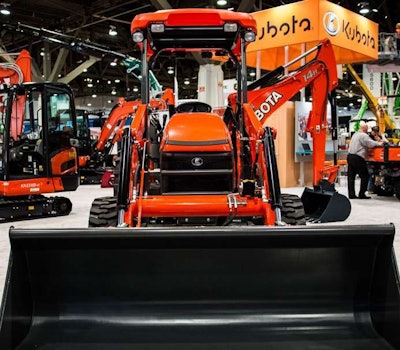 At the World of Concrete show here in Las Vegas, Kubota has launched two new tractor-loader-backhoe models.
The L47 and M62 TLBs join the B26 in the company's TLB lineup and will be available at Kubota dealers this month. The lineup offers the capabilities of three machines in one for front loader, backhoe and tractor work.
The headline feature of the M62 TLB is an improved backhoe with farther reach and a dig depth of 14 feet, a 17-percent increase over previous models. The machine is also compatible with certain Kubota mini excavator buckets.
The M62 is powered by a Tier 4 Final engine pushing 63 gross horsepower and has a bucket digging force is 6,572 pounds.
The L47 is powered by a 47-gross-hp engine and has a 10-foot digging depth with a bucket digging force of 5,825 pounds.
Both models are equipped with 17.7-gaLlon fuel tanks–48-percent more capacity than the models they replace.
Versatility
Both new models can equip a pallet fork or box blade via either a mechanical two-lever quick coupler or an optional hydraulic quick coupler.
The backhoe's quick coupler allows operators to easily switch between excavator buckets. Meanwhile, the backhoe itself is mounted using a four-point rear quick-mount system for easy detachment when it's not needed.
The models can also implement an independent PTO for attaching PTO-driven tools like rotary tillers, snow blowers and rear-mounted mowers. The PTO can be engaged and disengaged without stopping the tractor.
Finally, on both the L47 and M62, a lever-engaged backhoe crawling mode "allows the operator to slowly creep forward or backward while remaining at the backhoe controls, saving time and enabling more sure-footed operation such as when working alongside a trench," Kubota says.
Cab upgrades
Kubota has made a couple of improvements to the cab of these TLBs.
To declutter the floor of the cab and increase foot space by 27 percent, Kubota removed the clutch, moving the brake pedal to the left side of the cab.
Plus, a new throttle-up switch increases engine rpm while holding vehicle speed steady, "for those times when extra power is required for front loader work but vehicle speed needs to remain constant, and the electronic throttle lever and PTO switch require less physical effort to engage than older mechanical controls," Kubota says.