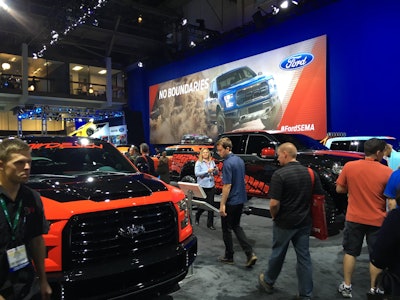 At the opening ceremony for the 2015 SEMA automotive show here in Las Vegas, the show announced that the winner of its annual Hottest Truck award is Ford's F-Series.
The truck award is one of four the show hands out to manufacturers each year, including Hottest Car, Hottest 4×4/SUV and Hottest Sport Compact. In fact, Ford is the show's hottest manufacturer in general this year, taking home three of the four awards.
The F-Series, Mustang and Focus took home the truck, car and compact awards, respectively, ceding only the SUV award to the Jeep Wrangler.
Chris Kersting, SEMA president and CEO, explained that the awards are determined by a vehicle's total presence at the show, with each booth counting as a "ballot" and the number of appearances by a vehicle in a booth as a "vote."
The SEMA awards were definitely backed up by the buzz around Ford's massive booth on the show floor Tuesday.
Hundreds of attendees swarmed the booth throughout the day leaving little room to move around. In the booth, Ford is displaying its GT supercar, the 2017 F-150 Raptor prototype (a huge draw) along with a few F-150 concept trucks.
"The SEMA Award helps guide consumers toward the hottest-trending and most accessory friendly vehicles on the market," Kersting added. "Our SEMA Show exhibitors are industry visionaries who determine the winners of the SEMA Award. By counting the vehicles displayed in exhibitor booths, we can see which vehicle models SEMA exhibitors believe will resonate with the enthusiast community."