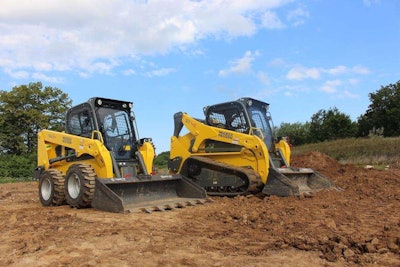 Once known only for compaction, Wacker Neuson now has a wide range of equipment from loaders to excavators to material handlers. The company's new tag line, "all it takes," reflects the depth and diversity of their offerings. Here are highlights of some of their new models.
Excavators
There are five new excavator models, three with tracks and two with wheels. The tracked ET145 is Wacker Neuson's largest; it will be available in early 2016. The company refers to the 14-ton, 75-horsepower ET145 as a compact model because it has a swing boom and rubber tracks (steel tracks are available).
The other two tracked models are the ET65 and ET90 at 6.5 and 9 tons respectively. Wheeled models are the 6.5-ton EW 65 and 10-ton EW100. Outriggers on the wheeled models are in line with the wheels to minimize the machine's footprint.
All five excavators come with blades. Each also features Wacker Neuson's three-pin linkage which you can see demonstrated in the video below. Advantages are higher breakout force, greater bucket rotation, and a vertical wall at a greater dig depth.
Wheel loaders
Wacker Neuson offers both articulated and rigid-frame, all-wheel-steer with three steer modes: 2-wheel (front), 4-wheel coordinated and 4-wheel crab.
The new 8085 is an AWS model and is also offered in a telescopic style 8085T model, which has an extended reach of more than 15 feet. A 74-horsepower Deutz engine is Tier 4 Final compliant and has a maintenance-free diesel oxidative catalyst (DOC) aftertreatment system. Standard configuration for the 8085 and 8085T is a 12.4-mph travel speed and 19 gallons per minute auxiliary hydraulic flow. A high speed/high flow option provides a 25 mph travel speed and 30 gpm flow.
TH522 telehandler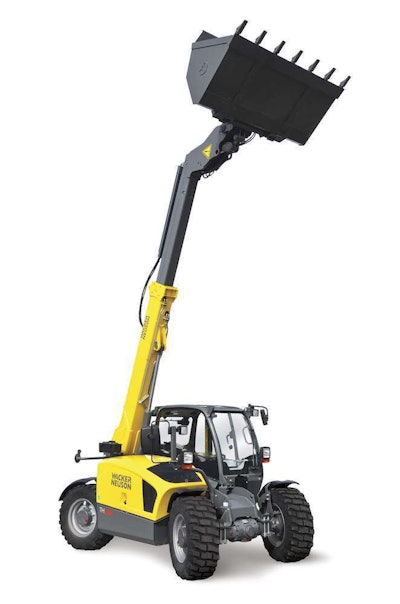 Wacker Neuson refers to their new TH522 as a "ground-engaging" telehandler. It can dig and carry, like a wheel loader. It can run most of the same attachments as a skid steer. And it's a telehandler with a 16-foot, 7-inch lift height and 4,100-pound capacity.
The TH522 has a Vertical Loading System with two loading modes. In bucket mode, the boom automatically retracts as it's lowered to keep the load close to the front axle, minimizing tipping risks. In fork mode, the boom extends and retracts automatically as the arm is raised to keep the load in a vertical plane; this is especially helpful when loading shelves or stacking materials.
The machine has a 60-horsepower Tier 4 Final Perkins turbocharged engine and a 19-mph top travel speed.
Dumpers
Similar to what you would envision a compact articulated dump truck to look like, and popular in Europe, dumpers have been slowly accepted in the U.S. market, something Wacker Neuson is hoping to change.
Its new DW60 and DW90 dumpers use impact-resistant buckets swivel and dump to the front or either side. Capacities are 4.2 cubic yards for the DW60 and 5.6 cubic yards for the DW90. Dumpers offer excellent traction and maneuverability on tight sites with rough, muddy conditions.
They're well-suited for general and residential construction as well as utility, landscape, and cemetery work and can be fitted with turf tires to minimize impact on improved surfaces, such as are found at golf courses and parks. Turbocharged Tier 4 Final Perkins engines are rated at 75 horsepower. An awning is optional for ROPS versions; cabs with heat and air conditioning are available.
Skid steer and compact track loaders
Wacker Neuson offers two of each, the SW24 and SW28 skid steers and ST35 and ST45 compact track loaders. The SW24 is a radial lift wheeled machine with a 2,350 pound ROC (at 50 percent of tipping) while the SW28 is a vertical lift model with an ROC of 2,800 pounds.
The tracked ST35 is a radial lift model rated at 3,500 pounds (at 50 percent of tipping) while the vertical lift ST45 is rated at 4,500. All four machines use turbocharged Perkins 854 Tier 4 Final engines rated at 74.5 horsepower.
These loaders are now made at the company's plant in Menomonee Falls, Wisconsin.
Compaction
Wacker Neuson continues to expand and refine their compaction lines. The BS70-4As rammer has a 3.6 horsepower Honda GXR120. The rammer weighs 177 pounds and produces a percussion rate of 678 blows per minute. Stroke height at the ramming shoe is 2.9 inches.
The RD7 series tandem smooth drum walk-behind rollers are available with either an 8.2-horsepower Hatz diesel engine (RD7He) or 9.7-horsepower Honda gasoline engine (RD7A).
The RTxSC3 trench roller has a line-of-sight infrared remote control and is available with the company's Compatec system. With Compatec a sensor near the drum measures vibration level to determine the amount of compaction. The system's eight LEDs help operators achieve optimal compaction and avoid over-compaction. Brightness of the LEDs adjusts automatically to ensure readability in varying light conditions, including direct sunlight.