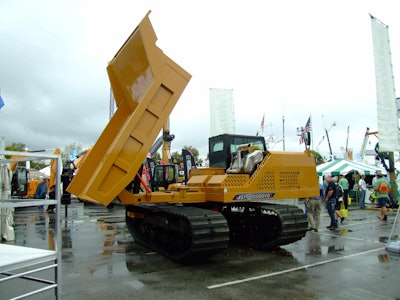 Morooka's new MST2200VDR crawler carrier offers a 360-degree revolving upper structure, a feature the company says fills a size void in the current crawler carrier market. The company launched the new model at the 2015 International Construction & Utility Equipment Exposition (ICUEE) in Louisville, Kentucky.
The revolving upper structure allows the machine to enter tight spaces that don't offer enough space for a machine to turn around. "You can drive down a narrow lane with a load, you can swivel, dump it, and drive right back," marketing manager Chip Bukoski said.
The MST2200VDR is similar in capacity (22,000 lbs.) to the current MST2200VD, but offers a sturdier base underneath. "The undercarriage is heavier, and in fact is the same at the (MST)3000VD," Bukoski said.
That design element, combined with the capacity and overall size matching the 2200VD, make this new model a hybrid between the two existing models. One difference is that the 2200VDR is designed strictly for hauling, so the usual attention to ground pressure isn't as big a concern.
Other features include a Caterpillar 7.1 Tier 4 final engine, 7-inch digital display, standard back-up camera, heated remote mirrors and variable speed travel motors that match machine speed to load.
The machine also includes dual joysticks, which is specific to the 2200VDR. "We started building it with one joystick, but a lot of contractors indicated they need two for this particular one, so it does have two instead of one in it," Bukoski added.
The machine on display at ICUEE is the first one manufactured, but Bukoski said full production is set to begin the week of October 5.