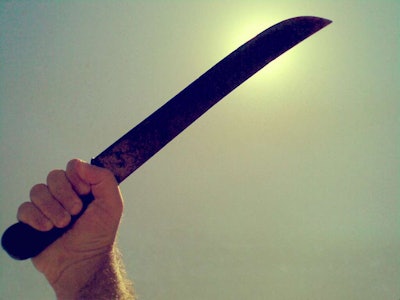 An Iowa man angered by construction near a roadway was arrested and accused of threatening a forklift operator with a machete.
According to a report from the Iowa City Press-Citizen, 44-year-old Jeremy J. Mulvaney was driving on the afternoon of September 4 when he came upon a construction site near an intersection.
Police say he became "upset about construction equipment in the roadway," so, like a villain in any movie with a jungle, he decided to clear a path with his machete.
Mulvaney removed the machete from his car and began waving it at a nearby forklift/telehandler operator. He fled the scene when a witness told him that the police were on their way.
Police eventually caught up with him the following Tuesday, however, and he admitted to brandishing the machete. He was charged with going armed with intent, a class D felon punishable by up to five years in prison, the Press-Citizen reported.