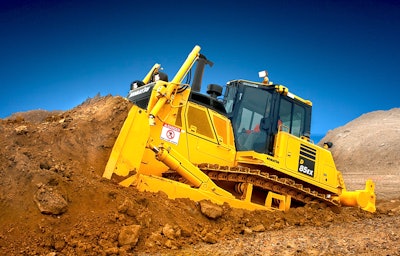 Five months after launching the dozer, Komatsu has announced that its extreme wear undercarriage system is now available for the D85EX/PX-18.
The Parallel Link Undercarriage System (PLUS) is designed to last up to twice as long as conventional undercarriages and will mean an added level of durability for the new D85-18. Komatsu introduced the machine as a "sweet spot" in its dozer lineup thanks to its line-straddling capabilities between the smaller D85 models and the D155-8.
Thanks to its rotating bushing design, Komatsu says PLUS eliminates downtime caused by pin and bushing turns and can lower repair and maintenance costs by up to 40 percent in certain applications. Komatsu made the system available for the D155AX-8 in August.
The system is designed to operate in high-impact, rocky ground conditions and on low-impact sandy jobsites, says Komatsu product manager Chuck Murawski. "This leading-edge track technology is quickly becoming standard equipment on several Komatsu dozer models," Murawski said.
The undercarriage is available in three different shoe widths: 24-inch/610mm, 26-inch/660mm and 28-inch/710mm PLUS ES shoes.
Komatsu's PLUS undercarriage assurance program covers leakage and breakage due to defects in material or workmanship for 3 years/4000 hours, whichever occurs first. Local Komatsu America distributors also offer supplemental wear-life coverage.