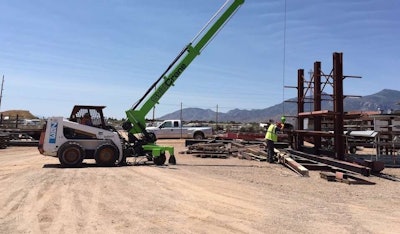 Parnell Jorgenson believed in the Bobcat.
His son Kim remembers the now-iconic skid steer beginning to pop up on his father's jobsites at some point in the late 1960s, just a few years after Bobcat first introduced it. And it didn't take long for Jorgenson and his nimble loaders to gain a reputation.
"He always liked to push the Bobcat as far as it could go," his grandson Tyler explains. "On the jobsites, clients would always comment on how he drove that machine like the devil."
It was tough love. Jorgenson saw immense value in the Bobcat, and rather than turning his back on the machine upon discovering a task it wasn't capable of accomplishing to his liking, Jorgenson was instead inspired to create something that added even more value to the loader.
In the early 1980s he and his son Kim created the SkidCrane, an attachment that transforms a skid steer into a fully-functioning crane that can lift up to 5,000 pounds. And despite being in use on real-world jobsites over a span of 20 years, there are only two of the devices in existence—and the Jorgenson's aren't even sure where one of them is.
This is the story of how, more than 30 years after its creation, Kim and Tyler Jorgenson are following through on a desire to bring a man's legacy, and a family heirloom, to market.
Guess-gineering
Kim Jorgenson traces the inception of the SkidCrane back to a sewer plant jobsite in the early 1980s and an incident involving another Parnell Jorgenson invention that is seen by the family as a much simpler predecessor to the SkidCrane.
Kim joined his father's Sierra Vista, Arizona-based company, Jorgenson Custom Building, in 1979 and recalled using a Bobcat equipped with winch-toting "A-frame" attachment his father had built to "lift a lot of things." Since that device is now long gone, Kim sketched out what the contraption looked like for us.
As you can see in the image to the right, the device stood about 10 feet tall and lifted objects using a winch located just above the anchoring plate which ran line to a pulley at the top of the "A" frame of round tubing uprights.
"At that sewer plant, we were lifting a concrete slab with that A frame and it just crumbled and twisted the whole thing like a pretzel," Kim Jorgenson says. Shortly after, his father told him about an idea for a full-fledged crane attachment.
"He probably realized there was more we could do with it if we had something more substantial for lifting," he says. "The A frame limited what you could do with it because you had to lift the arms."
Feeling that this crane idea would simplify the job at hand, Kim says he and his father took about a month off from the project to bring the SkidCrane to life.
"We called it guess-gineered," Kim says with a chuckle. "I did all the welding and stuff to put it together and he did most of the machining. We loaded it up on a trailer and took it up to a hydraulic place in Tucson and they gave us the pieces and parts we needed and we installed them."
And the device was put right to work, Kim recalls, seeing regular use for the next two decades. "When anybody saw it, be it our workers, or a customer or another contractor, we always got positive comments on it that it was a neat idea and always, 'Where can we get one?'" he says.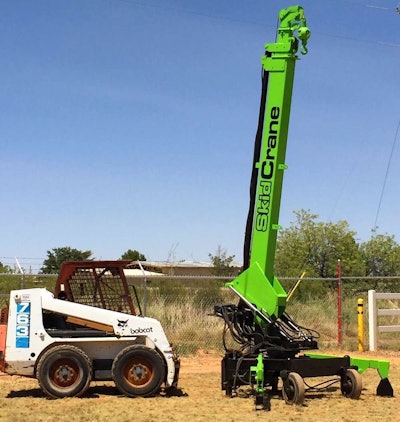 Building more than an idea
The Jorgensons heard those requests loud and clear.
With the hopes of bringing the attachment to market, in 1998 Parnell and Kim put an ad out in Equipment World's print edition for the services of an engineer to rework the SkidCrane into something they could sell. They made the second prototype, seen in the gallery above, from those drawings about 15 years ago.
As it is in its current form, the SkidCrane is rated at 5,000 pounds maximum lift capacity, depending upon the position of the crane. It extends hydraulically to about 36 feet and another 10 feet with manual pull-out extension, Kim Jorgenson says. "I'm pretty certain we're still around 1,000 pounds fully-extended and at a 45 degree angle."
The attachment can lift its capacity to a height of 18.5 feet, and 1,000 pounds to 46 feet.
And though Parnell had an affinity for the Bobcat specifically, the SkidCrane will attach to skid steers that are at least 4,600 pounds, with 3,000 psi hydraulics and the Bob-Tach architecture.
And yet, despite having not only a great idea, but a functioning, real-world-tested and successful prototype, putting all the pieces together in order to bring the device to market never quite happened before Parnell's death in 2013.
Parnell closed his company in 2005 and sold the original SkidCrane prototype when auctioning off the rest of his equipment. Kim stayed in the industry, landing a job with another contractor as an estimator. He isn't sure where the original prototype is today. "We actually sold it to the auctioneer's son, and we had had the new one built by then," he explains.
"We always wanted to bring it to market. We basically couldn't come up with the finances or the time," he says. "When the company was doing doing well, we didn't have the time and when business was down we didn't have the money. Those might sound like excuses but that's what it was."
"My father always had the idea that he wanted to do everything in-house. So with the costs associated with that, it just never came to fruition. Now we've decided on a little different path."
And yet, the SkidCrane endured, as bright ideas often do despite the dust of time.
About six months ago Tyler Jorgenson, who works for a consulting company, was looking to make a good investment. "I'm limited in the investments I can make so I was looking around for somewhere to put some of my money and I remembered the crane," he recalls. "I remembered that my dad had the prototype and all of the drawings and it was a ready-made business."
"I thought with my expertise and a bit of my money we could make it work."
Rather than keep everything in-house as originally intended, the Jorgensons have outsourced just about everything in efforts to keep a lean corporate model, Tyler says.
With the device patented and SkidCrane LLC established in Gilbert, Arizona, the company has identified a potential manufacturer for the device and part providers. "We're basically getting close to the point where we can start with contracts with these people, and we're looking to get the product out in the first half of next year," Tyler Jorgenson explains.
An attractive attachment
The Jorgensons say the SkidCrane should have pretty broad appeal but expect that smaller contractors will likely be more drawn to the attachment.
Portability should prove to be another attraction to the attachment.
"I think that apart from the flexibility of having something that attaches to a tractor you already have is that it is really usable by a small team of people. It can be easily transported by one person with a standard work pickup and the trailer that you already have for your skid steer. It's designed to be very user friendly and meant to fit into the current work cycle that already exists for these small companies," Tyler Jorgenson says.
"Many years ago with the original one, we had a job about 100 miles or so from the home office at a school in a remote location with the nearest crane service at around four hours travel time each way," Kim Jorgenson recalls. "And with all the trees and buildings in the way, the site necessitated a 150 foot crane. Instead, we put that prototype on our trailer with a ¾ ton pickup, drove into the jobsite and got the job done."
The promise of legacy
As they look forward to their dream materializing next year, the Jorgensons can't help but look back as well.
They wonder aloud whether Parnell would have liked the green color scheme and laugh knowing that he wouldn't have liked the name. "He thought we should call it a 'boom' to avoid any liabilities that come with crane," Kim explains.
Regardless, just as Parnell saw extra value in his Bobcat all those years ago, Kim and Tyler still see the value in an attachment that is brand new and more than 30 years old at the same time.
"I think it's so rare that you see a good idea that could actually be very useful to a lot of people. It would be great to see this idea that came from my family go to market and change the way people do their work and make it easier for them," Tyler Jorgenson says.
"I wish my father were still around to see this happen," Kim Jorgenson adds. "It'll make me proud to have it happen."