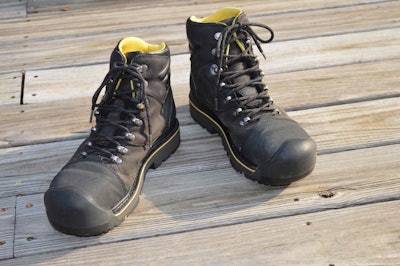 I've only been hurt twice in my construction career. Both injuries were to my feet. So I take boots seriously. I've got a closet full of them.

Last fall when bootmaker Keen Utility offered to let us try some of their latest offerings I was eager to give them a shot. Two of our other editors were favorably impressed with the brand. Bruce Smith reviewed the company's Braddock Mid WP, and Tim Walton put the low-top Keen Destin through its paces.
For my review I was hoping to score one of Keen's full 8-inch boots (the Wenatchee or the Sheridan) but they were out of stock, so I settled for a 6-inch, mid-height Milwaukee WP. It takes time to get to know the merits of any boot, but after 10 months I can say these are the most comfortable and rugged pair of boots I've ever owned.
The look is distinctive as well. The all-black Milwaukee WP has a touch of Doc Marten aggression with a post-apocalyptic vibe. The yellow pinstripe and liner suggest the Pittsburgh Steelers. I wouldn't wear them to meet with the bankers, but they fit right in on a Harley.
Comfort
The first thing you notice when you slip these boots on is they feel great, as good as any running shoe. Part of this is due to Keen's unique right and left "asymmetric" toe box. The shape is bulky, but as a result there's no crowding of your toes on the outside edges. They are roomy, but not loose.
The dual-density footbed is soft but not squishy and it feels anatomically perfect to my feet. If you wear thick socks to compensate for the lack of comfort or fit in other boots, you won't need to do that with Keen's Milwaukee WP.
Walking in these boots is also a pleasure. This I attribute to the shank for midfoot support and the relatively low heel. Some people may prefer a taller heel, and on soft dirt more heel may have advantages. But for my stride on any paved or hard surfaces the lower heel gives me a more natural gait and better balance. I wish I would have had boots like this in the army.
The only discomfort I experienced was early on when I got a small blister on one heel. The construction of the boot is rigid and it doesn't flex much, especially in the heel. This was aggravated by the fact that I was trudging across heavily wooded side slopes, which tend to twist your foot around inside the boot a lot. Over time the boot has broken in sufficiently and that has ceased to be a problem. It's still a tad stiff on the slopes, but no more blisters. On flat ground it's never been a problem.
Performance
The tread on the my Milwaukee WPs had great traction on hard surfaces, even when wet. The lock notch on the speed laces keeps them from unraveling. These boots are a bit heavy, but I'd rather have that than a lighter boot that makes my feet want to quit. You can kick hard on a shovel all day long with these boots and not feel it through the sole.
Protection
Keen's steel toe meets the ASTM standard for impact and crush protection. Behind the toe cap and generously wrapped around the heel is a tough, abrasion-resistant material. Few boots offer serious heel protection and if you've ever taken a hard shot to the back of your foot you know how much that hurts. The Keens are close to bulletproof in that regard.
Soles are puncture resistant to ASTM standards. The entire construction is water resistant but also somewhat breathable, so your feet don't get sweaty.
Functionality
Most of the work I've been doing these last 10 months has been landscaping–lots of chainsaw and shovel work. The six-inch, ankle-height on the Milwaukee WP is probably not the best for those applications. The boot's padded collar doesn't completely seal the top of the boot from debris. So wood chips, mulch, dirt and such tend to get inside the boot. This isn't the fault of the boot; it's just the wrong application. An eight-inch boot wouldn't have this problem.
That being said, the environments where these boots will really shine are construction sites that are out of the dirt but still littered with the usual hazards: rebar, rock, hot asphalt, broken concrete, structural steel. They'd also be a smart choice any place there is a chance of something heavy being dropped on your dogs. So commercial building, paving, oil field service, refineries, demolition, steel or other types of fab shops, concrete work of any kind. If that's what you do, these boots will serve you well.
Price
Amazon lists the Milwaukee WP at $170. I've paid less for some boots but north of $200 for top of the line construction footgear, so I consider the Keen's a solid value.
Finally…
We've reviewed three of the company's offerings, but Keen offers an impressive range of different styles, including designs specific to individual trades and a full range of womens' products. If you're serious about your boots, check out their website keenutility.com.
How they rate
(on a scale of 1 to 10 with 10 being the best possible score).
Performance: 10
Comfort: 9
Protection: 10
Durability: 10
Price: 10
Value: 10
Total: 59/60