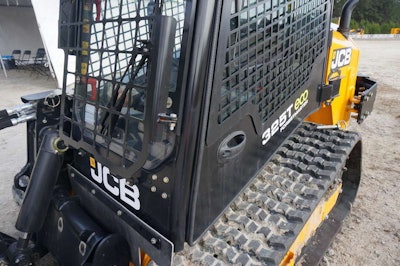 [imagebrowser id=210]
It might just be a compact track loader with mesh armor, but the JCB 325T ForestMaster definitely looks the part of an indestructible mulching, cutting and mowing machine.
Despite being introduced last year, JCB kept coming back to the machine, the latest in its large platform skid steer/compact track loader lineup, during a press event at its North American headquarters in Savannah, Georgia, last week. And that's not just because it looks cool. It's because this is a machine the company feels represents the best of all its processes.
For one, it's built by hand at JCB's Savannah plant—a facility the company loves to show off—and it features what the company calls it's one-can Tier 4 Final engine technology, requiring no diesel particulate filter or after treatment. But more importantly, it features some of the company's best solutions for keeping an operator safe, not to mention an owner's investment.
Speaking of owners, the machine was developed with the close help of a customer who came to the company looking for a bit more protection for CTLs in thick forestry applications.
The machine is powered by a JCB Ecomax engine pushing 74 horsepower through exhaust gas recirculation (EGR) and ultra-high common rail fuel injection without regeneration times. JCB notes that the machine's lack of regen time is especially important in a forestry machine because the extra heat the process causes could pose a potential fire hazard with sawdust floating around.
In terms of armor, the machine is outfitted with a steel mesh FOPS guard, a tube guard and a guard for the exhaust. There's also a very durable polycarbonate windshield and available protection for the hydraulic hose, auxiliary coupler, front work light, air conditioner and rear lights. Customers can also outfit the FOPS guard with a side guard. The machine in the gallery above features everything you just read.
The machine also features a rear-mounted, hinged recovery winch that should come in handy in case any "boggy ground" is encountered. It can also be outfitted with a 60-inch-wide mulching head with up to 45 cutting hammers. There's a true sense of "they thought of everything," with this machine.
For JCB the ForestMaster represents a milestone since entering the skid steer market back in 1993. It represents a lot of progress over the last two decades and it represents a solution engineered with a U.S. customer and built here in the U.S.—quite a big deal for a manufacturer based in the UK with big hopes for the North American market.
Earlier in the day on Thursday, JCB North America President and CEO Arjun Mirdha said North America is now the company's third largest market after 2014 brought a fifth-consecutive year of sales growth—and record sales at that, up 23 percent.
Mirdha said JCB's North America sales have jumped 193 percent in the last four years alone, noting, "We're just getting started."
"We now have 97 dealers in 300 locations in North America with plans to expand to more than 500 outlets by 2018," Mirdha said. "JCB will be the brand to watch in North America in 2015 and beyond."
And if the company has a few more machines like the ForestMaster up its sleeve, Mirdha might be right.