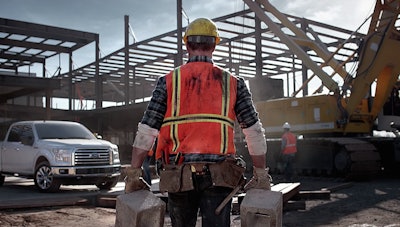 In what Ford is calling its biggest truck marketing campaign ever, the automaker is prominently featuring construction work in three new ads for the 2015 F-150.
Ford began running the ads on TV during the College Football Playoff semifinal games last night. One of the ads, titled "What's Next," focuses on the 2015 model's new technology like the remote tailgate, integrated bed ramps, LED lighting and 360-degree parking assist cameras. A second boasts the new truck's towing capacity of 12,200 pounds, which Ford says is helped in large part by the 700 pounds shed by the new aluminum body.
A longer third ad, "Forward March," combines all of those talking points into one ad that's heavy on the construction and trades imagery. And that's not by accident. Ford knows many of its most loyal customers are those that depend on their trucks for hard work, including contractors and other fleet buyers.
The prominence of construction in these ads is also interesting considering how much Ford has learned about the average truck customer's buying habits. The automaker says truck buyers being the shopping process earlier than customers of other vehicles, starting an average of 233 days before they buy. About half of truck buyers end up buying the truck brand they researched and Ford says they spend an average of 35 to 45 percent more time than car and crossover buyers on dealer websites researching specific truck configurations.
The bottom line is this: Ford isn't just showing the F-150 on jobsites to make it look tough in its ads, though it certainly helps. The company is showing the F-150 on jobsites because that's where some of the automaker's most important and knowledgeable customers work day-in and day-out.
To give you an example of how truck buyers in the construction industry think differently, when we talked with fleet managers and contractors how they felt about durability concerns expressed over the F-150's new aluminum body, they said it was overblown. In fact, since dump truck boxes have been made out of aluminum for years, they had no concerns whatsoever in terms of durability and were instead looking forward to how much more the truck could haul with a lighter body and the increase in fuel economy.