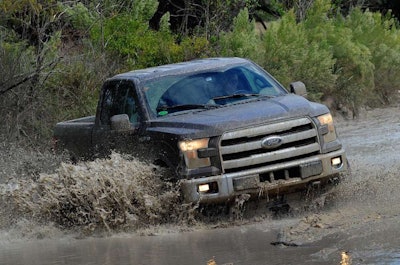 Ford has done some pretty impressive engineering with its EcoBoost V6 engines. Though many shook their heads at the automaker's decision to turn its focus from the V8 toward creating a more powerful V6 in the name of fuel economy, the risk has largely paid off. Even the 2.7-liter EcoBoost packs some very V8-like power all the while propelling the 2015 F-150 to the title of most fuel efficient gas-powered full-size truck on the market. (With some help from that lighter aluminum body, of course.)
Now, the automaker says it's not stopping there.
In an interview with the Detroit Free Press, Ford vice president of global product development Raj Nair said the company is "working very hard" on a hybrid drivetrain for the F-150. Unfortunately, Nair said it is too early in the development process to go into how the new system would work or when we might see it on the F-150.
The two-wheel-drive F-150 gets 19 miles per gallon city, 26 mpg highway and 22 mpg combined when equipped with the 2.7L EcoBoost. That's pretty impressive for a pickup truck, but the thorn in Ford's side on this issue remains the Ram EcoDiesel 1500, which achieved an EPA rating of 28 mpg. The diesel truck has boosted Ram's sales, reviews are all positive and it has helped ignite quite a bit of a buzz around the fuel in the general public.
The EcoDiesel was also one of the reasons the much-hyped 2015 F-150 lost out on Motor Trend's coveted Truck of the Year award to GM's new midsize truck the Chevrolet Colorado. The main benefit from shedding 700 pounds with an aluminum body and equipping a truck with a 2.7-liter V6 should be fuel economy. But the magazine found the new F-150 to be no match for the EcoDiesel 1500 in that department. The Ram beat the F-150 by a wide 21-percent margin in the magazine's fuel economy testing, a lead that extended to 35 percent when adding a 1,000-pound load.
For that very reason, many would love to see a diesel F-150. And though Ford still considers the EcoBoost F-150s to be a better value due to the added expense the EcoDiesel piles on the 1500's price tag, Nair told the Free Press the automaker "wouldn't completely rule out a diesel F-150."
"If we see demand, we've got diesels in the portfolio," he said. "We'll react."