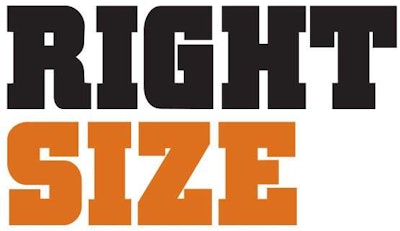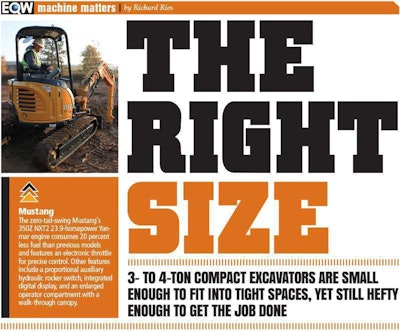 Three- to 4-ton compact excavators seem to be just the right size. "Positioned in the middle of the compact range, these machines go where bigger machines cannot and dig and lift what smaller units are unable to do," says Jake Jeffords of JCB.
Because of their versatility and the inclusion of popular features as standard equipment, "off-the-shelf machines are adequate for most customers," says Zack Radermacher of Yanmar. He says that transportability, maneuverability, and fuel efficiency are among the reasons these machines work so well for so many. But Radermacher encourages customers to do their homework and not simply assume that a 3- to 4-ton machine is right for them, despite their popularity. "Machine size should be related to the job the customer needs to accomplish. The customer must balance the time it takes to complete a job with the cost of the machine, savings in fuel cost, efficiency and productivity."
Trickle up, trickle down
These mid-size compact excavators borrow features from machines in both bigger and smaller size classes. Tom Connor of Bobcat says among the features that have moved down from larger excavators are the hydraulic quick-attach, enclosed cabs with heat and air conditioning and rubber-over-steel tracks. "The first two enhance productivity. The third reduces operating costs by extending track service life while preserving the ability to operate with minimal disturbance of finished surfaces."
Katie Pullen, brand marketing manager for Case Construction Equipment, cites three features that migrated up to this size class from smaller diggers: the backfill blade, the center pivot boom and zero tail swing design. "Both manufacturers and customers are realizing the benefits of zero tail swing and now larger excavators are offering zero tail swing or at least minimal swing radius designs."
Electronics are moving from larger machines to those in this size class and bringing with them a host of benefits. "While compact excavators are typically fuel efficient, the industry is adopting some electronic features historically found only on larger machines to further improve performance, such as auto-idle and work modes," says Caldwell.
By combining characteristics of larger and smaller models, 3- to 4-ton excavators hit a middle ground of performance, says Jonathon Ferguson of Terex Construction Americas. "They boast more dig depth, reach, horsepower and bucket breakout force than smaller machines. They have more comfortable operator environments and offer easier access to critical components like the hydraulic lines and the engine. Because they pump more hydraulic fluid per minute, this size of compact excavators is able to run a larger variety of attachments, especially larger buckets, which improves cycle times and overall productivity."
Compared to larger excavator models, those in the 3- to 4-ton class offer more versatility in small spaces, such as alongside busy roadways and around buildings and or other infrastructure, adds Ferguson. Plus their ownership and repair costs are less expensive. This size of excavator can also be much less intimidating for less experienced operators to operate.
Displacement
Compact excavators are displacing other equipment in contractor fleets as they find that the combination of a compact excavator and skid steer loader can substitute nicely for a backhoe loader, says Nathan Ryan of Manitou Group (which includes the Gehl and Mustang brands). "The price of a small excavator and a skid steer is about the same as the price of a backhoe and they provide more productivity and greater versatility," he says
Jennifer Hooper of Caterpillar notes that compact excavators are also displacing hand tools. "An excavator with a hydraulic hammer replaces an operator with a jackhammer. And the compact size of these machines allows them to get into back yards and congested locations to perform tasks in a couple of hours that once required several days of hand shoveling." Other examples she cites include augers for drilling post holes and thumbs for placing decorative rock and other hardscape elements.
Just-right specs for the just-right machine
Although basic configurations for 3- to 4-ton excavators are similar across brands, different markets desire different versions. "All of the machines in a weight class are roughly the same size and all dig about the same depths with close to the same horsepower engines," says Tharen Peterson, New Holland light construction equipment specialist. "The options are where you see a differentiation in the product. The rental segment generally wants an optioned-down machine with as few things that can break as possible, such as open station machines with analog switches." On the other hand, construction and landscape markets tend to want enclosed cabs and see the advantages of electronic monitoring. "As a result manufacturers offer many options so dealers and customers can get exactly what they need," Peterson says.
Jeffords says contractors understand the roles these machines play and are adept at configuring them for peak utilization. "Most customers know the exact purpose and function for this size class of machine. If anything, customers over-utilize the machine in order to maximize its potential and value. Options are important, and in this size class options mostly boil down to the dig end of the unit."
What matters most
Getting to the dig end starts with arm and stick options. "Customers need to decide what matters most," says Tom Connor of Bobcat. "Is it reach? Dig depth? Breakout force? Dump height? Each is affected by arm and stick choices. These choices also affect the functionality of attachments."
Also, "if your task involves drilling, cutting, breaking, moving, clamping, or just about any other action word, there is likely an attachment for it," says David Caldwell, product and training manager with Takeuchi.
John Comrie, compact excavator product manager at Volvo Construction Equipment, says either a manual or hydraulic quick coupler can work well in this size class. Attachments for these machines can usually be positioned by hand, which also allows the use of a less expensive manual quick coupler.
Comrie says track type is another important consideration in spec'ing a compact excavator. Steel tracks provide great traction and optimal damage resistance in demanding applications, such as demolition and rocky underfoot conditions. Full rubber tracks are gentler on finished surfaces and although they're not as robust as steel tracks, they're far more durable than in the past.
Rubber pads come in two types. In one, the pads bolt to steel grousers. In the other, the pads are the grousers and mount to the steel chain. Bolt-on pads reduce repair costs since individual pads can be replaced as needed. The rubber-steel hybrid reduces undercarriage weight when compared to steel grousers while providing a balance of traction, minimal impact on surfaces, and durability.
George Lumpkins, national service manager for Kobelco, points out that while larger excavators are cab-only, opting for a canopy-only unit instead of an enclosed cab reduces initial cost and saves weight. And since canopy models don't have air conditioning, service access is improved. Cabs, however, provide operator comfort throughout the year, which reduces fatigue and increases productivity.
Blades
Not every important option is at the end of the stick. Blades come standard on many 3- to 4-ton excavators, but not all blades are created equal. Standard blades are typically fixed, but angle blades are making inroads as options. Take, for instance, Kubota's 6-in-1 blade. "This blade enables six positions," says Keith Rohrbacker, construction product manager for Kubota Tractor. "It can be angled 25 degrees right or left, left end up or right end up, neutral or float. This feature makes leveling and backfilling easy, even on inclines and uneven terrain."
But even with the best blade, compact excavators have limitations when it comes to dozing and grading and not every customer needs an angle blade, says Ryan. "Angling blades are not without their shortfalls. Angling the blade makes it narrower than the tracks and a typical 15-inch-high blade will get overrun eventually, angled or not. In addition, many operators prefer to backfill with the bucket. Adding an angle blade can result in a fairly high percentage increase in initial cost and customers should assess the machine's capabilities and their work habits to make sure they'll get value from that investment."
Future developments
"In the next few years we should expect to see the growth continue as more end users switch from backhoes to mini excavator and skid steer combinations," says Steve DePriest, product sales trainer at Hyundai. "Expansion into applications where traditionally backhoes have been the preferred equipment such as residential and commercial utility work has led to stronger digging and lifting forces. The efficiency and comfort gained from options once reserved for larger machines will likely become commonplace on more compact equipment. Additionally, new uses for these versatile machines are created daily. Throughout all this growth, size and weight need to be maintained to cater to the core product market of rental."
Now that manufacturers have mostly resolved the challenges of meeting Tier 4 Final emissions regulations, says Pullen, they can get back to increasing the value of their products. "Emissions requirements have really been driving changes recently, and now that these machines are reaching their final stages, manufacturers will be able to focus on the unique ways customers are using their machines and tailor machines to make their lives easier."