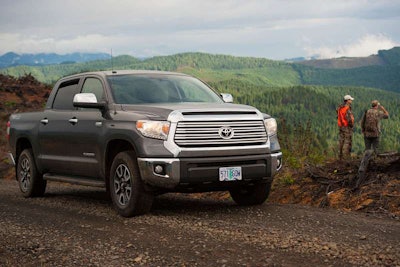 [imagebrowser id=147]
It's one of the fastest half-ton pickups on the road in 2015 with one of, if not the biggest cabs. Toyota's Tundra CrewMax is all about legroom, with nearly 8 inches more space between the front and rear seat than the standard Double Cab model.
Flip up the rear split-bench seat and that added front-to-rear space opens nicely to provide a lot of cargo space, too. That's one of the attractions owners of first- and second-generation Tundras discover when stepping in to the new CrewMax.
The trade-off for the added legroom, however, is Toyota only offers the CrewMax with a 5-foot, 6-inch bed. That means the tailgate has to be kept down to haul eight-foot sheets of plywood, transport an ATV, or carry other bulky items. But that's a small concession for Toyota's workhorse pickup.
The truck I tested, a Limited 4×4 model, is rated to tow 9,000 pounds when using a weight-distributing hitch. That's a lot of tools and equipment to keep a crew busy.
From a power perspective, the 2014 Tundra's 381 horsepower 5.7-liter i-FORCE V8 and six-speed automatic will out run all of the competitors' small-block V8s I've tested to date with 0-60 miles per hour times in the low 7s and quarter-mile speeds in the low 90s.
Part of the Tundra's acceleration performance is the result of mating its 4.30 axle ratios to the six-speed automatic with its close-ratio design. The combo of power and gearing work in harmony to give strong launches and smooth power transitions during shifts. That smooth, steady power also shows up when towing, as I felt first-hand towing a 23-foot, 5,600-pound Salem travel trailer.
Like the Tundra Platinum edition we tested last year, the 2015 Limited 4×4 delivers sub-par fuel economy when compared to Ram, Ford and GM's half-tons. The EPA rates the Toyota at 13/17/15 mpg city/highway/combined. I observed 18.3 mpg during a 180-mile interstate cruise at 65mph, high 13s in stop-and-go city driving, and mpg in the low 11 range while towing a mid-weight travel or utility trailer and driving old logging roads on a hunting trip.
Those with much of a leadfoot will see those numbers drop 1-2 mpg because the 5.7L i-Force's fuel economy is quite sensitive to throttle input. Even moderate to aggressive driving will cost you at the pump.
On the road, the Tundra CrewMax TRD 4×4 delivers a very pleasant ride on- and off-pavement. The steering is light, the brakes quick and firm. It's a very comfortable truck on long drives. The TRD Off-Road package (a $100 option that's worth every penny) upgrades the truck's wheels to 18-inches shod with Michelin ATX all-terrains, and dumps the stock hydraulic shocks for Bilstein gas shocks to improve suspension control.
Leather-trimmed front power seats in the Limited I drove are firm for good support and they have more adjustments than you'll ever need. Abundant leg, shoulder and headroom give both front- and rear-seat passengers plenty of space to get comfortable. The interior is also very quiet even over coarse pavement and gravel roads. There's a little wind noise around the doors and mirrors at interstate speeds, but nothing that moved our sound meter from reading a quiet 68dB.
Driver visibility is excellent to the front and sides, but not so much so over the right shoulder where the longer cab creates a big blind spot, or out of the back where the tall bed makes it tough to see anything that's closer than a couple truck lengths.
Thank goodness the Tundra CrewMax I was driving came with the optional ($595) Limited Premium Package that includes front and rear parking sensors to augment the standard rear-view camera system. The camera and big screen makes it easy to back up to a trailer, even in the dark, and park the hitch ball right under the trailer's tongue. The back-up camera is a real time saver for those who do a lot of towing.
Tundras have the deepest bed in the full-size pickup market and they are equipped with adjustable tie-downs along both sides. The tall bed sides increase the capacity to haul materials such as mulch, gravel and sand. My test truck also came with a factory drop-in bedliner ($365).
After spending a week with one—and putting in more than 500 driving miles—there's no doubt the Limited-trim 2015 Tundra CrewMax has a great balance of both power and handling needed in a half-ton for work or recreational use, and the up-scale trim features of the TRD Limited edition make the occupants feel like they are riding in the lap of luxury.
Really, this truck's only weakness is the V8's thirst for fuel.