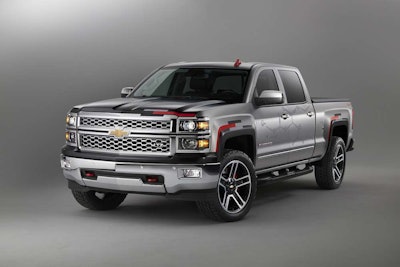 With all the talk and positive buzz surrounding Ford's aluminum-bodied 2015 F-150, Chevrolet thought it might be a good idea to highlight the benefits of the Silverado's high-strength steel body. The automaker's "Toughnology" concept truck is a way of doing just that.
After all, there have been lingering concerns over how durable a material aluminum really is. (Though, apparently not in the construction industry.) That in combination with manufacturing and repair costs have some still wondering whether it's a good idea to make a pickup out of the metal despite the fact that it looks like it will soon become and industry standard.
Chevy's concept truck definitely plays that angle up a bit while also allowing the truck maker to address another big benefit of the F-150: technology.
The main idea behind the truck is that its paint job mimics what Chevy calls a "raw steel appearance." The truck is accented with steel molecule graphics while the hood—the only non-steel exterior component—is painted black.
Chevy says the steel used in the Silverado is "lighter, stronger and more efficient than the conventional carbon steel used in most vehicles." The automaker explains that the steel is pressed while still in molten form and can be up to 30 percent lighter than carbon steel with the same strength.
Chevy also points out that high-strength steel "offers significant mass savings at a lower cost than aluminum," which means less-pricey, but still very durable trucks.
The hood of the Silverado is made out of aluminum though, saving 17 pounds of weight.
The "Toughnology" concept also includes 22-inch wheels on off-road tires as well as a grille insert; tubular assist steps; a soft, folding tonneau cover; a washable carpet bedliner; fender flares and tinted headlight lenses.
The truck boasts a bit more power than the standard Silverado with a performance air intake system on the 5.3-liter engine, rated at 355 horsepower and 383 lb.-ft. of torque.
Inside, the truck has the Silverado's LTZ trim with headed leather bucket seats, a rear entertainment system and a built-in 4G LTE Wi-Fi hotspot. There's also a wireless phone-charging mat.