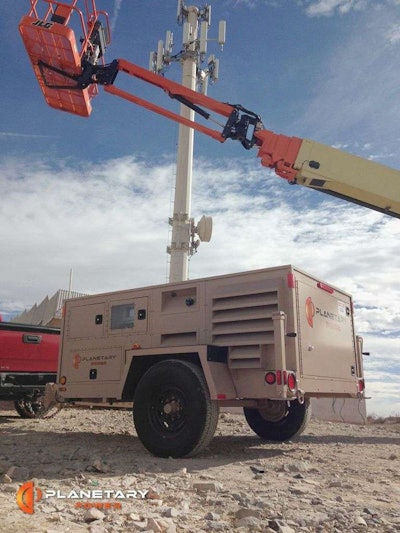 Combine a small diesel engine to a lithium-ion battery pack and what do you get?
A hybrid electrical generator that uses up to 80 percent less fuel than conventional, diesel generators.
Planetary Power's HyGen hybrid generators are solution for portable power needs off the grid or areas or where diesel fuel is scarce and expensive to import. In the mountains of Afghanistan, for example, the installed costs of a gallon of diesel can run as high as $800 a gallon. HyGen units are being used in some of the world's most remote locations, but the benefits extend beyond extreme environments.
In addition to cutting fuel costs and logistics these mobile hybrid generators run less often and can provide up to 20 hours of noise-free energy with a greatly reduced environmental footprint. Multiple units can be networked together to meet high power demands without any loss in efficiency.
HyGen generators produce 60 kW of peak output power and 30 kW of surge output power and are rated for 20 kW continuous power. A three cylinder Perkins 403 F/D series engine provides the initial power which is also soaked up by a proprietary lithium-ion battery modules with 28.6 KWh. The batter pack has an estimated life of 10 years or 7,000 cycles.
The unit produces a broad spectrum of power bands including:
120V/240V, single phase, 60 Hz
240V, split phase, 60 Hz
208V, three phase, 60 Hz
277V480V, three phase, 60 Hz
220V/230V/240V, single phase 50 Hz
380V/400V/415V, three phase, 50 Hz