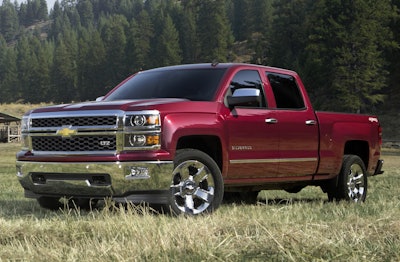 Back in July, Consumer Reports named the 2013 Ram 1500 the top full-size pickup, noting that it was in the middle of testing the 2014 Chevrolet Silverado. Well, it appears the testers really liked what they were seeing, as the publication has bumped the Ram down to second place in favor of the Silverado albeit with reservation.
The publication tested the Silverado 1500 with a 355-hp, 5.3-liter V-8 and four-wheel-drive. The pickup earned a score of "Excellent," edging the 5.7-liter Hemi V8-powered Ram 1500 with four-wheel drive in several head-to-head comparisons—but only by three points when all was said and done.
[youtube QtXugsq4wto nolink]
The Silverado has a larger cargo bed, lower step-in height, better handling, several hundred pounds greater payload capacity and it can tow a heavier trailer—up to 11,200 pounds—according to Consumer Reports testing.
Plus, the Silverado got 16 miles per gallon of gas overall which is one mpg better than the publication found for the Ram.
Both the Silverado and Ram outscored Ford's F-150 XLT, whose 3.5-liter EcoBoost turbo V-6 and 5.0-liter V-8 versions place third and fourth respectively.
In terms of where the Silverado fell short, Consumer Reports found that the Silverado's 5.3-liter V-8 "lacked the thrust of the 5.7-liter V-8s in the Ram 1500 and the Toyota Tundra." Plus, they found the Silverado's transmission "reluctant to downshift, making the truck sometimes feel underpowered." In the publication's rock hill course, the Silverado's performance was "hampered by wheel spin and ground clearance."
"The reality is that you can't go wrong with either one. Both are capable trucks that get decent gas mileage and are as quiet inside as a good luxury car," said Jake Fisher, director of automotive testing for Consumer Reports.
Though the Ram 1500 fell to second after all the testing was done, Consumer Reports feel like the Ram is the better option for those who spend a lot of time in their trucks. The testers found that the Ram has better accleration and a better ride than the Silverado along with a more comfortable interior (including the rear seating).