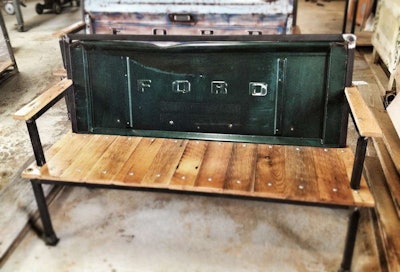 Got a spare tailgate from an old pickup lying around? Why not let Roque Castro turn it into a pretty cool piece of furniture for you?
According to the website for Castro's company Yesterday Reclaimed, his Blue Collar Benches were inspired by "memories of sitting on the tailgate of my grandpa's old pickup truck sipping an ice cold Coca Cola after a hard day of work on the farm."
Garden & Gun recently profiled Castro, who told the magazine that the idea first came to him while he was making a bed for his son with pieces of old pickup trucks. When the tailgate for the footboard arrived and was too big, he tinkered around a bit and the first Blue Collar Bench was the result. He now calls the bench his company's "bread and butter."
Castro's site says the hand-crafted benches are customizable—if there's a particular make or model you'd like to have made into a bench, he'll find it for you, though there's a good chance he might already have it.
The current turnaround time on the benches is between two and three weeks. You can contact Castro for a quote on a bench by emailing him at [email protected].