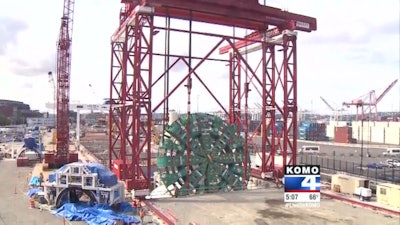 With the digging of the Washington State Route 99 tunnel in Seattle scheduled to start in July, the Washington State Department of Transportation recently lowered the head of Big Bertha, the world's largest tunnel-boring machine, into the pit that will serve as its starting position.
Bertha made her triumphant arrival in Seattle at the beginning of April to much fanfare. The $80 million machine traveled from Osaka, Japan to Seattle where it will dig the Route 99 tunnel beneath downtown Seattle. The tunnel will replace the 60-year-old Alaskan Way Viaduct at a cost of $3.1 billion.
According to Seattle's KOMO News, who has some great video of Bertha being lowered into the pit, the head of the tunnel-boring machine alone weighs 838 tons and is five stories tall.
Washington State DOT told KOMO everything is on schedule to begin boring in July. At a pace of about 30 feet per day, the tunnel is scheduled to open in 2015.