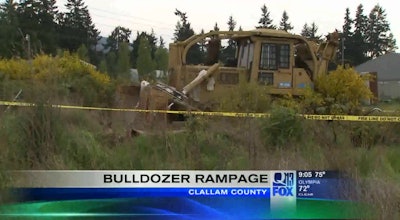 Apparently that old Robert Frost quote "Good fences make good neighbors" doesn't hold up in every situation.
After arguing for months with a next-door neighbor over a fence that made it difficult for for him to move his logging equipment in and out of his yard, Barry Swegle took action.
Part of the equipment in question was a bulldozer. And when Swegle reached a breaking point with the disagreement, he hopped inside the operator's seat and went on a rampage through his Port Angeles, Washington neighborhood that has an estimated cost of $300,000.
In just a few minutes Swegle managed to smash three homes, a Ford pickup, a boat and a tractor, according to Fox affiliate KCPQ (via the Huffington Post).
No one was injured, but the 51-year-old Swegle is being held on $1 million bond and could face a charge of attempted homicide.
You can watch a news report on the bulldozer rampage by clicking here.