The 21-to-25-metric-ton class excavator is one of the most popular size classes in the United States. While mid-size excavators are digging wonders, they also excel at other tasks.
Today's contractors need maximum utilization rates to remain profitable, which often requires machines tackle duties outside their normal modes. Advances in design and technology also have made it easier to outfit excavators to perform these new tasks. Plus manufacturers are seeking ways to offset the sticker shock that comes when shopping for new Tier 4 machines.
"Customers don't want to pay for legislation," says Chris Giorgianni, vice president of product at JCB. "They need a reason beyond emissions compliance for paying higher prices."
Hydraulics and electronics
Excavator hydraulics have improved dramatically over the past 10 years. Flow and pressure have increased and the ability to modulate both while providing quick access to the machine's hydraulic power have turned excavators into prime movers for a host of attachments.
This is especially true for rental yards and demolition applications, says Rob Marringa, brand marketing manager at Case. "Our Intelligent Hydraulic System integrates the engine with the electrical and hydraulic systems to maximize performance and efficiency when using attachments such as hammers, shears, and vibratory plates."
"Intended attachments should be able to run at 75 percent of the excavator's flow and pressure."
By integrating electronic control and hydraulic performance, manufacturers provide work modes where excavator performance is tailored to general types of tasks. Brian Yureskes, excavator product marketing manager with Komatsu, says their Dash 10 excavators have six modes to optimize machines for differing applications. Hyundai's version is called CAPO, for Computer Aided Power Optimization. Some machines allow operators to program operating parameters to match the needs of specific tools. Case's Smart View, for example, stores hydraulic characteristics for five attachments. JCB's Tool Select and Advanced Tool Select features store performance maps for 10 different attachments.
How can you be sure the excavator you're considering will power the work tools you'll be using? Michael Stark, excavator product specialist at Doosan, says that the intended attachments should be able to run at 75 percent of the excavator's flow and pressure. This leaves some margin for when conditions are more demanding. If the stock hydraulic system is inadequate, the dealer can install a second pump to meet the need.
One consequence of the integration of electronics and hydraulics is on service diagnostics. "Mechanics used to fix problems only from the perspective of hydraulics," says Bill Thomas, vice president of Gradall excavator products. "Now problems can be hydraulic or electric." He says that equipment electrical systems have matured. They're better able to handle the rigors of construction work such as heat, water, and shock loading, and electrical problems are much less frequent than they were in the past. And service technicians are more accepting of fault codes as legitimate diagnostic tools.
Gathering data is the role of the CAN bus system. Sharing data comes courtesy of telematics, enabling data to be sent back to the shop. Fleet managers get reports of how equipment is used, such as the hours spent in various work modes and the time spent idling, as well as information on out-of-range conditions (such as overheating or low oil pressure) and fault codes. JCB's LiveLink, for example, reports more than a dozen types of key information, and LiveLink for Tier 4 engines adds more features related to operating efficiency.
The volume of information may seem daunting, but "there are no tricks to getting value from the data," says Mark Wall, product marketing manager for Hitachi and Deere. "The key is to use the data to make informed decisions." Wall says that customers can ask to have any information not included in the stock setup added to the telematics reporting.
There are potential downsides to all this technology, says Jordan Lumpkins, marketing for LiuGong North America. "Some contractors opt to purchase equipment without these new, complex systems to reduce their initial cost of ownership. Those who do their own maintenance and repair may prefer more standardized or basic hydraulic systems. And advanced electronic and hydraulic systems can make it more challenging to adapt specialized attachments, such as delimbers and magnets, to a specific model of excavator."
Not all the electronic advantages are found in the field. Sophisticated electronics and high-definition displays have made simulators amazingly realistic. They show everything from loading an excavator onto a trailer to loading an articulated dump truck. Simulators are most often used for training, but Wall says they also help qualify job applicants. "It's a good way to assess the skill level of a potential new-hire without any risk to machines or personnel." Simulators are widely available at dealerships and vocational schools.
Start with the basics
While the high-tech features of excavators demand attention, it's equally important to mind the basics. As reduced- and zero-tail-swing design migrates from smaller models to larger, that choice becomes one of the basics, says Chris Wise, brand manager with LBX Link-Belt. "Tail swing most often comes to mind in residential construction and urban settings, but it's also a consideration in highway work where these machines allow just one lane to be closed instead of two." Wise says that other basics include the inclusion of a blade and the availability of rubber pads to reduce or eliminate grouser damage to finished surfaces.
Transport dimensions and operating weight must be considered, says Wall. "It's an equipment issue that's based on the customer's trucks and trailers and whether they have a blanket permit to haul equipment. Operating weight will determine whether they need a 2-axle or 3-axle lowboy to transport a particular machine."
"Among the small changes that offer big returns are changes to the operator's environment."
Yureskes says bucket capacities are still key to spec'ing the right machine, as are the various arm and boom dimensions available for a given model.
Excavator uppers are most often associated with crawler chassis, but that's not always true. Some are mounted to barges for cleaning the banks and beds of rivers. Some are mounted to railcars for maintaining railway rights-of-way. "We can no longer think of excavators as strictly crawler-mounted, dirt-moving machinery," says Marringa. "Machine uppers are being mounted on various fixed platforms instead of always going on a crawler undercarriage."
Alternative undercarriages can improve efficiency even in traditional digging and craning operations. Gradall has long offered three types of undercarriages: crawler, rough-terrain wheeled, and highway wheeled. Each has advantages depending on terrain and underfoot conditions.
Among the small changes that offer big returns are changes to the operator's environment. Air-ride seats, automatic climate control, pressurized cabs that reduce dust infiltration, and reduced noise are all part of this improved environment. Shane Sirmons, national sales and marketing manager for Hyundai, says that other creature comforts are sometimes overlooked. "Large, fully-adjustable foot pedals, ergonomic joysticks, and the amount and placement of storage space can make operators feel more at ease, which reduces fatigue and enhances safety and productivity." Other features he cites include hands-free mobile phone connections and MP3/CD players.
Subtle changes in materials and design are harder to spot but can have a big impact on owning and operating costs. Wear parts, from pivot bushings to undercarriage bearings, have been improved to extend service life. Advances in metallurgy have enabled some of these improvements, but finite element analysis (FEA) has also played a big role, according to Stark. "FEA allows engineers to optimize materials and design. Thicker and heavier isn't always better."
Buy with an eye for reselling
Increasingly stringent emissions regulations have prompted exhaust aftertreatment paths, including diesel oxidative catalyst (DOC), diesel particulate filter (DPF), or some combination of these and other systems. But for these systems to function correctly, engines must run on ultra-low sulfur diesel fuel (ULSD, with no more than 15 parts-per-million of sulfur) and may require the use of a diesel exhaust fluid (DEF, a mixture of 32.5 percent urea in water).
Lesser-regulated countries (LRCs), which have lower emissions standards, don't have ULSD or DEF because they don't require them. Most of these LRCs are not moving toward more stringent regulations so chances are they won't be bringing in ULSD or DEF anytime soon.
LRCs have historically been a big component of the market for used machines coming out of U.S. fleets. But the machines being sold in the United States today won't run without ULSD and DEF, which effectively locks them out of what has always been a prime resale market.
Manufacturers have been grappling with this problem for a few years. The solution many have adopted is to build machines for the U.S. market that can be modified for resale into LRCs. This "de-tiering" can be done by dealers. The cost and complexity of the process depends in part on how much of the task is built into the machine's original design. De-tiering is a more straightforward task if the engine is built with that process in mind.
Roundup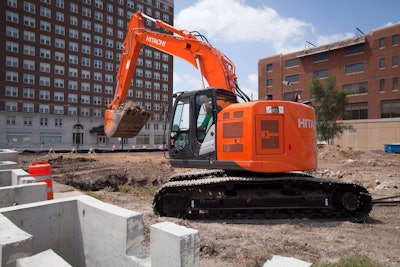 Hitachi's ZX245USLC-5 reduced-tail-swing excavator, powered by an Isuzu Interim Tier-4-certified engine, delivers a swing speed of 13.3 rpm and a maximum digging depth of 20 feet 5 inches. The excavator features a 42-inch, 1.09-cubic-yard bucket with power boost that offers a bucket digging force of 29,099 pounds and an arm force of 27,877 pounds. The 56,167-pound excavator has tungsten-carbide thermal-coated arm surfaces, oil-impregnated bushings and welded boom bulkheads, as well as a large fuel tank and hydraulic oil-service intervals. Cab features include narrow front cab posts, mirrors, a large overhead window and an expanse of glass on the right side, all for increased visibility, as well as silicone-filled cab mounts to reduce noise and vibration.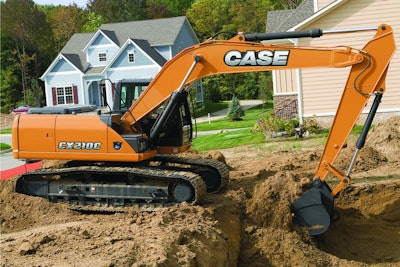 The Case CX210C excavator delivers 160 net horsepower using Tier 4 Interim-certified cooled exhaust gas recirculation technology and is available in three power modes: SP (speed priority), H (heavy duty) and A (automatic). The CX210C has an operating weight of 47,800 pounds, a bucket digging force of 34,171 pounds, arm digging force of 24,729 pounds and a maximum dig depth of 21 feet 10 inches. Features include Case Intelligent Hydraulic System technology, Boom Economy Control and Auto Economy Control to reduce rpm, Swing Relief Control and Spool Stroke Control. The ROPS/FOPS cab features reinforced tubular structures with vibration refinement to reduce noise levels to as low as 69.9 decibels. An 8-foot-6-inch wide undercarriage is available to ease transportation.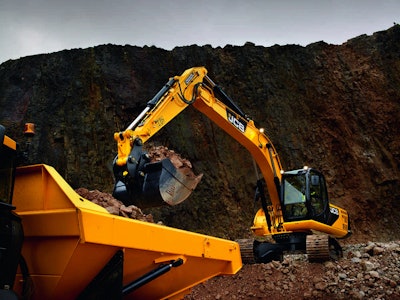 The JCB JS220, which weighs approximately 24 tons, is powered by a Tier 3 Isuzu engine rated at 174.03 horsepower. The 22-ton excavator features a 34,845.39-pound bucket breakout force, hydraulic regeneration, auto-idle technology, high tensile strength steel reinforced boom and dipper, single piece wrapper plates and internal baffle plates, a fully-welded X-frame undercarriage, cushioned boom and dipper ends, six viscous rubber mounts to reduce noise and vibration, a balanced slew and electronic/hydraulic controlled slew braking and Advanced Monitoring System. For maximum visibility, the JS220 includes a 70/30 front screen split, a large laminated glass roof window and a demist/defrost function. The JS220 includes Auto, Economy, Precision and Lifting modes.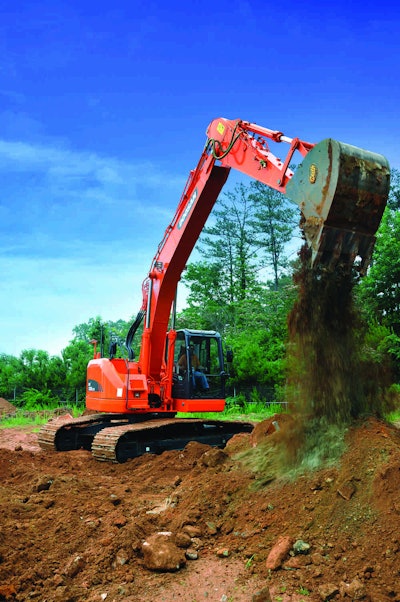 The Doosan DX235LCR crawler excavator features a tail swing radius of 5 feet 6 inches and a tail swing of 35.25 inches. Powered by a 173-horsepower 6-cylinder Doosan turbocharged diesel engine, the DX235LCR has an operating weight of 53,572 pounds with standard boom, arm and 1.2-cubic-yard bucket. The DX235LCR has a bucket breakout force of 33,510 pounds, arm breakout force of 23,810 pounds, maximum travel speed of 3.6 mph in high range and swing speed of 11.3 rpm. Features include a long carriage design, standard auto idle feature, hydraulic system with a load-sensing piston pump and closed center valve and low noise levels (71 decibels for the operator and 103 decibels for bystanders). The DX235LCR includes three working modes: Power, Standard or Economy.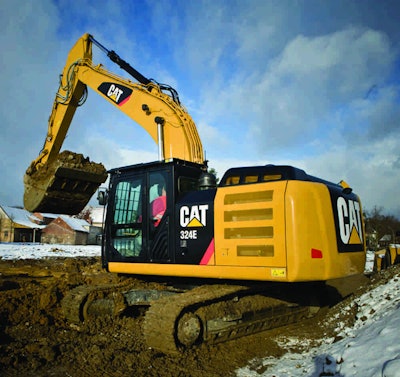 A Cat C7.1 ACERT engine powers the Cat 324E hydraulic excavator, which offers a net power of 145 kilowatts and 194 horsepower. At an operating weight of 55,395 to 64,990 pounds, the excavator delivers a swing speed of 9.2 rpm and a travel speed of up to 3.3 mph. The 324E's climate-controlled operator station includes adjustable seats with air suspension, heated, and air cooled options; joystick controls with one-touch idle and heavy lift modes; an LCD monitor and more. A segmented two-piece guiding guard helps with track alignment, while the motor housing prevents buildup around seals. Other features include electric boom regeneration, a return filter, an Electronic Control Module, a reinforced frame and a fixed long undercarriage. Two counterweight options are available: 4.4 tons and 7.4 tons.
The Komatsu PC210LC-10 hydraulic excavator is powered by a Tier 4 Interim SAA6D107E-2 engine and has a net horsepower of 158 and an operating weight of 52,036 pounds. Five modes – Power, Economy, Heavy Lift, Breaker and Attachment – boost productivity on the jobsite. The PC210LC-10 has a hydraulically actuated Komatsu Variable Geometry Turbocharger (KVGT) and Exhaust Gas Recirculation valve, a closed center load sensing hydraulic system, variable speed matching and low speed matching, side-by-side-mounted radiator and hydraulic oil cooler, Komatsu's Equipment Management Monitoring System and Komtrax wireless technology. The ROPS-certified cab, mounted on viscous damper mounts to reduce vibration, features a high-back, fully adjustable seat with air suspension heating and a high-resolution 7-inch LCD monitor. Komatsu Care factory maintenance program comes standard with the PC210LC-10.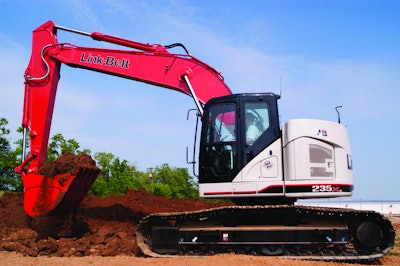 Link-Belt's 235 X3 Spin Ace Minimum Swing Radius Excavator, available in LC and Dozer models, replaces the 225 Spin Ace. Powered by a Tier 4 Interim Isuzu engine, the 235 X3 provides 17.5-percent improved fuel efficiency, 15 percent more lift capacity and 7 percent faster cycle times than the previous model. The LC model features a 55,997-pound operating weight and a 14-foot-8-inch track length, while the Dozer model has a 56,879-pound operating weight and a 13-foot-9-inch track length; both feature a 32-foot-4-inch maximum reach and a 21-foot-10-inch maximum dig depth. Each of the 160-horsepower excavators has an ROPS-certified cab, fuel management system, auto-idle, high-pressure common-rail fuel injection system, variable geometry turbocharger, on-board diagnostic system and programmable service interval reminders. Options include an auxiliary hydraulic system and side-view cameras.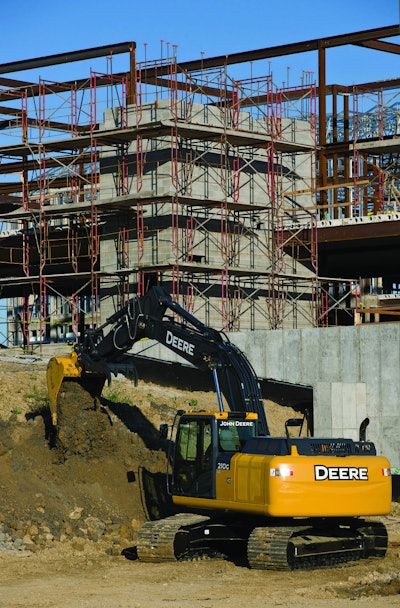 John Deere's 160G LC and 210G LC G-Series models are powered by Tier 4 Interim-certifed John Deere PowerTech diesel engines rated at 121 horsepower and 159 horsepower, respectively, and offer three modes: high-productivity, power and economy. Cab features include silicone-filled mounts to reduce noise and vibration, a fabric-covered high-back seat, an HVAC system, a multi-language LCD control monitor and a hot/cold box for beverages. These G-Series models are equipped with Powerwise III hydraulic management system, a hydraulically-driven fan in the cooling system, remote-mounted vertical oil and fuel filters, extended engine and hydraulic oil-change intervals, the Machine Information Center and a standard three-year subscription of JDLink. The 160G LC and 210G LC models are available with various track widths, arm lengths, buckets and other options.
LiuGong's 922D crawler excavator, powered by a turbocharged Cummins 6-cylinder engine that provides 142 net horsepower at 2,000 rpm, features an operating weight of 50,500 pounds, a digging depth of 21 feet 8 inches and a bucket capacity of 1.31 cubic yards. For on-demand breakout power, this excavator uses a smart hydraulic system. The 922D, which is designed with a rugged frame and undercarriage components, also features an anti-drift boom function to stabilize the boom, as well as LiuGong's computer aided systems to help reduce fuel consumption.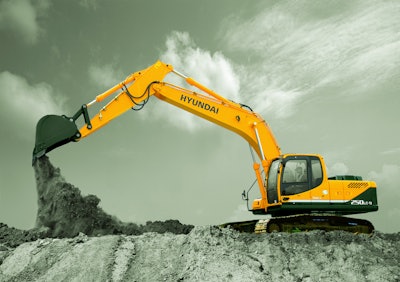 The Hyundai R210LC-9 and R250LC-9 midsize crawler excavators are both powered by a Cummins QSB6.7 water-cooled, 4-cycle, low emission diesel engine, delivering 143 horsepower at 1,900 rpm and 183 horsepower at 1,900 rpm, respectively. The R210LC-9 has a 50,520-pound operating weight with a 22-foot 1-inch maximum dig depth and a 29,320-pound bucket breakout force; the R210LC-9 has a 56,900-pound operating weight with a 23-foot maximum dig depth and a 34,610-pound bucket breakout force. The climate-controlled cab features hands-free phone controls, Hi-mate remote management system, a 7-inch-wide color LCD screen Cluster with toggle switch, a rear-view camera and more. Additional options include bushings to extend lube intervals to 250 hours, polymer shims to resist wear and reduce noise, extended-life hydraulic filters and long-life hydraulic oil.