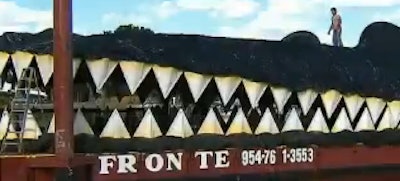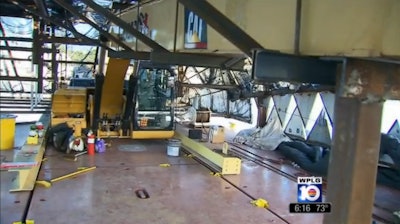 The sight of an alligator peeking above the water as it floats along the support of a bay is a common occurrence for Floridians. But a 40-ton gator? Not so much.
But as the creator of this massive monster, artist Lloyd Goradesky told Miami's WPLG there's nothing to fear: "This is a friendly gator."
Goradesky created the gator to raise awareness for preservation of the Everglades. It's making a grand appearance today at the Art Basel art exhibition in Miami where it will float around Biscayne Bay. The head of the gator alone is 90 feet long by 30 feet wide and weighs about 30,000 pounds. The gator took seven months to build and its eyes will actually glow orange at night as the beast floats.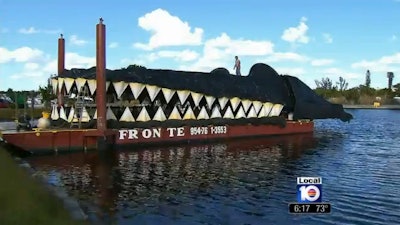 But the main functionality of the piece depends on a Caterpillar excavator. The excavator is in charge of both opening the mouth and steering the 20-ton barge the head sits on. You can see how the excavator is positioned inside the head without the exterior in the video below.
The gator's body will be composed of large tiles on which Goradesky's photos of the Everglades are printed.
[youtube CvGhSWemUrY nolink]