Phillippi-Hagenbuch's (PHIL) new Positive Seal Autogate Tailgate is designed for off-highway trucks and roll-off containers that require a 100-percent seal. Paired with PHIL's fluidic seal material, the tailgate creates a water-tight seal to contain liquids, a feature that can be critical in environmentally sensitive areas.
(You can see more of what OEMs have in store for ConExpo 2020 in our show preview page by clicking here.)
The tailgate, which can be designed for most sizes of off-highway trucks and roll-off containers, will be featured in PHIL's ConExpo booth in the North Hall, N11067.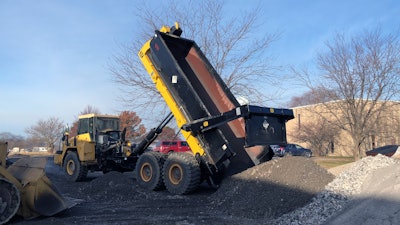 Combined with PHIL's outrigger, the traditional scissors-type mechanism provides an industry-leading maximum opening clearance at full dump, says the company. In the closed position, the new design positively locks into place and will not open without the body or container in "dump" mode.
The design builds up the rearmost portion of the body to create a cohesive flange from which the tailgate compresses. Two hooks on either side of the base of the flange intercept a corresponding tag on the tailgate, allowing it to pivot inward as the sidearm and over-center mechanism compressively lock the tailgate into place.