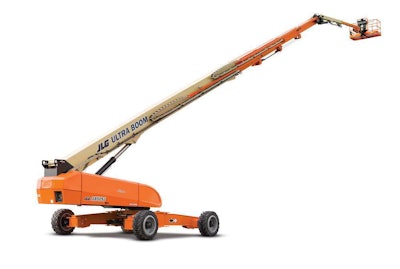 Telescopic boom lifts are reaching heights not imagined 10 years ago, when 135 feet of maximum height was pushing the envelope.
Last month, Genie unveiled its 180-foot SX-180 to U.S. audiences, a machine it announced at the Bauma trade show in Germany last April.
And now JLG has upped the ante by more than 5 feet with its 185-foot-7-inch-platform-height 1850 SJ boom, offering nearly 19 stories of working height and almost 3 million cubic feet of reachable space.
The boom will be on display at the firm's ConExpo booth, Gold Lot 1037.
"Part of the design challenge on this was maintaining boom rigidity while meeting transportability," says Rob Messina, JLG vice president of global engineering and program management. "It was important for it to be transported on standard-size trailers." Using model simulation, JLG engineers optimized the structural efficiency of the boom, Messina says.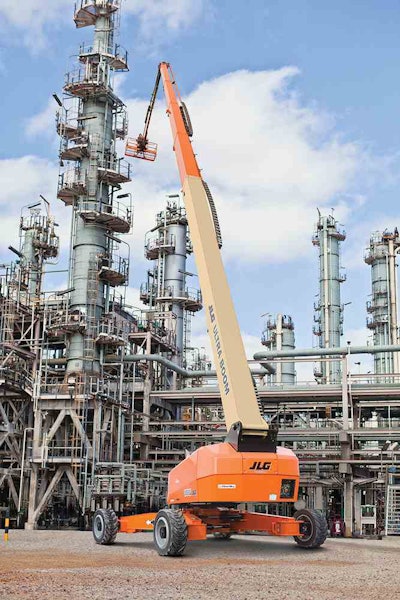 Jeff Ford, JLG global product director for aerial work platforms, puts this new height in context. "When we launched our 150-foot 1500 model at the 2011 ConExpo, the demand exceeded our expectations. Job requirements today—including petrochemical plants and large stadiums—require higher working heights. And it's not just how high you can go, but how much workable reach." The 1850 SJ has a maximum horizontal reach of 80 feet.
With a maximum platform capacity of 1,000 pounds (500 pounds unrestricted), the boom extends from ground to full height in less than five minutes. The axles—which take less than a minute to fully extend or retract—extend to 16 feet 6 inches and retract to 8 feet 2 inches.
In the 8-foot-by-3 foot operator's platform, the LCD display on the control panel offers a wealth of information, including exactly where the worker is positioned in the work envelope, in addition to service codes, engine status and other key machine stats.
"One of the most important things is to give operators confidence while they're up in the air," Ford says. "The LCD display communicates a whole new level of information."
Users can telescope out manually or in automatic mode, which automatically starts to lift and telescope out to keep the machine in its working envelope. The two-section telescopic jib extends from 13 feet retracted to 20 feet extended and gives additional reach, up-and over capability, and the ability to telescope into and around structures.
Powered by a 99.8-horsepower Deutz turbo diesel, the standard four-wheel-drive model has a 23-foot-4-inch turning radius. The machine can travel on up to a 40 percent grade and has a top speed of 2.8 mph.
It only requires an overweight permit to transport; no troublesome oversize permit is required. The 53-gallon fuel tank offers 24 hours of continuous operation before refueling.
Both JLG and Genie tout that these booms offer a cheaper alternative to attain these heights than using a truck-mounted boom or manlift-equipped crane.
So the question has to be asked: Is this about as far as these booms can go? "It's as far as we've gone so far," Messina says. And there's a natural progression: once they can reach a certain height, users likely will find new tasks for these units.