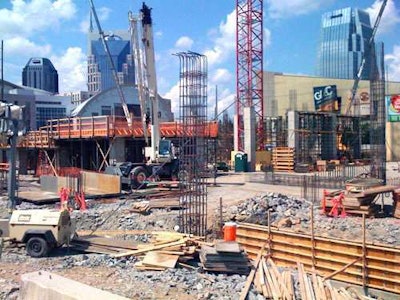 Total U.S. construction starts will grow 3 percent next year as the industry moves into "a mature stage of expansion," according to the 2018 Dodge Construction Outlook.
The pullback will continue in areas of multifamily and hotel construction starts. The increase will be led by continued growth in single-family houses, warehouses and office buildings.
A wild card in the outlook is whether the Trump administration makes good on its promise of a $1 trillion infrastructure plan. Construction should also get a bump from reconstruction following Hurricanes Harvey and Irma.
The expansion's boom years were between 2012 and 2015, when construction starts hovered around 12 and 15 percent. The expansion began to wane last year, with a 5 percent increase. Dodge predicts 2017 construction starts will have risen 4 percent.
The overall economy will see modest growth in 2018, thanks to no substantial rises in interest rates. What happens in Congress with tax reform, however, adds some uncertainty.
For construction starts by specific sectors, Dodge predicts the following:
What will grow?
Single-family housing – a 9-percent increase in dollars and 7-percent increase in units.
Commercial – 2016 saw a 21-percent spike in commercial building, but don't expect anything close to that in 2018. Dodge predicts slight growth of 2 percent next year. Office buildings will be one of the winners. Store construction will be weak, and hotel construction will continue its drop.
Institutional – This year was a banner one for institutional building, with a jump so far of 14 percent. Dodge predicts modest growth next year at 3 percent. The rise will be led by school construction, thanks to local bond measures being passed.
Public works – Federal funding for bridges and roads is expected to rise, leading to a 3 percent increase in public works construction. Starts in the segment rose only 1 percent this year. Public works, however, could get a significant boost if a national infrastructure plan passes Congress.
What will shrink?
Multi-family housing – Apartment construction appears to have peaked in 2016. Next year will see an 8 percent drop in dollars and 11 percent drop in units.
Manufacturing plants – Expect a 1 percent drop in construction starts for manufacturing, after posting a 27 percent rise this year. This year's surge in plant construction was led by "the start of several massive petrochemical projects," according to Dodge.
Utilities – Dodge predicts a third year of decline for construction starts for electric utilities and gas plants, with a 13 percent drop in 2018.