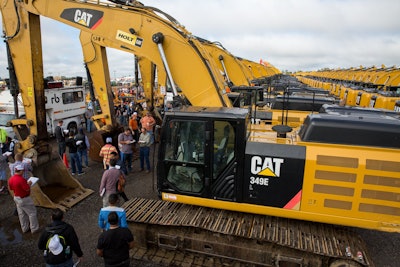 In these days of delayed infrastructure spending, Congressional one-upmanship and multiple Category 5 hurricanes, it was great to get some good news.
The good news came from our latest Reader Profile survey, where more than 220 respondents from our print and newsletter audiences showed unprecedented renting and buying intentions. In the next 12 months, 44 percent of the respondents said they were likely to rent. Add rental purchase options to the rental mix, and a total of 58 percent checked the rental option.
But the news isn't all on the rental front. Thirty-nine percent of respondents said they were likely to buy light equipment, with another 36 percent each saying they were likely to buy new heavy equipment and used equipment.
These are exceptional increases over the responses in a 2014 survey. The amount of those likely to rent (23 to 58 percent) increased by 60 percent; those who indicated they were going to buy new heavy equipment (18 to 36) increased by 50 percent. Plus, the "buy used" option had a solid although comparatively modest rise, going from 30 in 2014 to 36 percent in 2017.  (We didn't ask about light equipment in 2014.)
Last year, a dealer told me his client contractors felt and acted like tomorrow "was going to be 2008 all over again." The Great Recession had become the Great Hesitation, and rental was the beneficiary. The toe-in-the-water aspect of rental and rental purchase options matched this hesitation; contractors wanted to date but not necessarily legally commit to their machines. Our survey results reflect this.
While rental was the top choice, we aren't overlooking the gains made in new buying intentions. When we asked respondents to comment on what would prompt them to buy new equipment, "general economy on the upswing" was by far the top dog at 36 percent, followed by tax incentives and increased private spending (25 percent each).
Although the asterisks of infrastructure-spending uncertainty and lack of Congressional action remain, all the construction spending forecasts we're looking at have arrows pointing upward, usually in the 3 to 5 percent range. In releasing its third-quarter Commercial Construction Index, the U.S. Chamber of Commerce and USG Corporation, said that 95 percent of contractors surveyed expect their revenues to grow or remain stable during the next 12 months. And the Aggregates Industry Outlook index, issued by our sister publication Aggregates Manager, has increased 15 percent year-over-year, a positive sign from this highway-market-reliant aggregate producers group.
Contractors these days are a more agile, data-driven group. They remember 27-percent-plus construction unemployment. (It's now 4.7 percent.) They saw competitors go bankrupt. They laid off all but their key employees. They hunkered down.
It's because they remember those days that these survey numbers speak volumes.