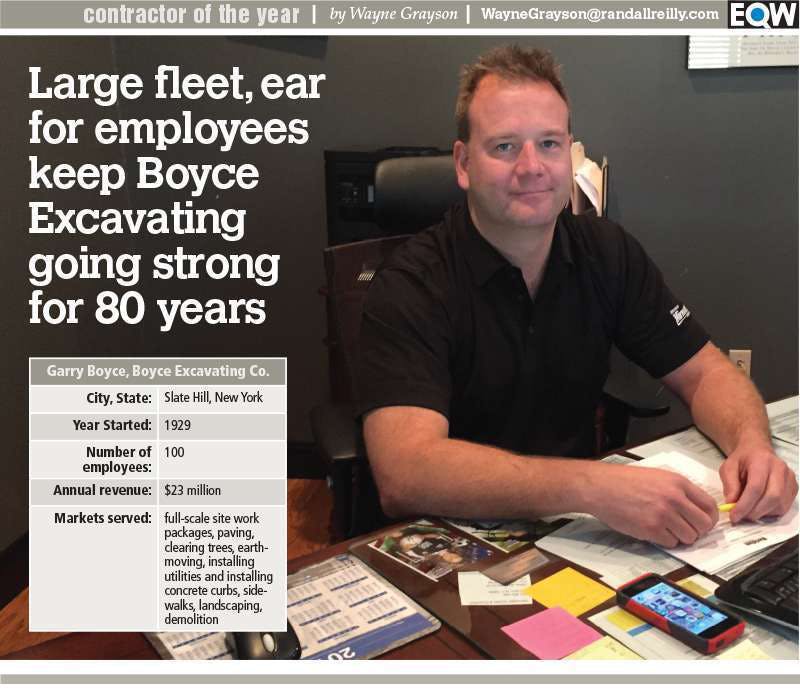 Garry Boyce is a construction lifer. He got his start as a laborer at his father's company, while also greasing equipment. Eventually he got to run some of that equipment, creating a passion he remembers loving to come home to every day as a child.
"I couldn't wait to get off the bus at 13 or 14 years old and run up to the gravel bank and run those loaders," Boyce recalls. "When I got in trouble as a kid they'd take my keys away from the equipment. That's how I got punished."
Boyce kept working his way up in the company from operator to foreman to vice president and then to president before buying the whole thing from his father in 2005.
Started by his great-grandfather as a trucking business in 1929 and run by his great-grandmother through the '30s after her husband's sudden passing, Boyce Excavating now employs as many as 100 and made an estimated $23 million in revenue last year, experiencing a significant growth spurt from its previous year's revenues of $14 million.
"It's not often that you Google a construction company that has been in business for more than 80 years," company vice president Brian Cutler says. Cutler joined Boyce after leaving a career at IBM. "Garry didn't know much about the office end of it, the bookkeeping. I had an accounting degree. I kind of reversed things."
But Cutler didn't simply jump into the office as VP. He says he wanted to learn about the business first, so he started at the company as a laborer and eventually became an equipment operator. "I started with a shovel in a ditch," Cutler recalls. "I did that for like a year and then I would run equipment once in a while and then I started paving. We had a really good paving operator and he taught me a lot."
Now, Cutler mostly works on the paving side of the business but still oversees accounting. "I'm out in the field now more than I am in the office," he says.
The company performs full-scale site work packages, clearing trees, moving earth, installing utilities, paving and installing concrete curbs, sidewalks and landscaping. Boyce Excavating also does quite a bit of demolition, especially on sites they are contracted to prep with existing structures. Boyce says it is a pretty sizable differentiator for the company.
"We do demolition probably more than most of our competition but maybe not as much as my grandfather, though he was operating during a time of urban renewal in the 1950s," Boyce explains. "Demolition for us still ties into our site work. We rip a lot of buildings down to clear sites for new construction."
Though much of the company's competition dwindled away during the recession, Boyce says, it kept a leg up on encroaching firms from nearby markets like Albany by maintaining a large and versatile equipment fleet. "We have a lot of equipment and people know that," he says. "They know that if you want to get a job done, we can knock it out.
"Even during the recession, we stayed busy and kept a crew of at least 50 guys. We didn't make the profits we were making, but we hunkered down and made it through."
Boyce says the company enjoys a 50/50 mix of public and private jobs. "Public job profits are lower but the chances of getting paid are better. A big private job is the home run for us," he says, "but we talk to local county government and we try to do as much research on the public customers as possible. I think the half-and-half mix is good because you've got some risk with the private guys, but your profits stay up."
The company has also greatly benefited from a loyal and talented staff of employees, Boyce says, some of which were hired by his father. He says listening is the key to retaining talented workers.
"We listen to them. We have a weekly meeting. All the foremen talk. All the estimators, the project managers. We're pushing guys to do 300 feet of pipe per day and if they're saying, 'Listen we can only do 250 feet,' we're listening and they know it. They feel it. And we do give bonuses whenever we can," he says.
Worker shortage
With so much work coming in and a large staff to retain, Boyce says, one major pain point for his company in recent years has been finding enough qualified workers to fill vacant positions.
"People can be your biggest problem or they can be your biggest asset." Boyce says. "I grew up with a different breed of worker. You didn't have half the problems with those guys. You didn't have cell phones; you didn't have other contractors trying to steal them way."
"It's difficult," Cutler adds. "We run ads in the newspaper and online every other month."
Trusting tech … and your gut
Boyce and Cutler are big proponents of technology on the jobsite.
"We see technology like an estimator now," Cutler says. "It's part of our fleet. With our on-road equipment we have telematics and we have a screen now in the office you can see where all of our machines are."
And while having a stream of real-time data on all your equipment is powerful, among the best advice he can give other contractors is listen to your instincts.
"Sometimes you really have to trust your gut," he says. "Watch the economy. Do a little reading. Know what you're doing."
Client Vincent Knoll of Jones Lange LaSalle says Garry is a rare contractor in today's environment.
"I can't tell you how great it is to have a partner that does what they say they're going to do," Knoll says. "What occurs to me when I think about Garry, most people don't understand the value of looking ahead…. Look ahead planning is key and I think a lot of people talk that, they say they do it, but a lot of people don't understand the value and they actually don't know how to plan their work well enough to do that. What I think what separates Garry from a lot of the folks that I typically see out there is the look ahead planning and informing the client about the impact to them.
"Garry and his management team I think understand all the components such as these affecting a job. They're very specific in what that look ahead is and the impact to the client. That's the key."