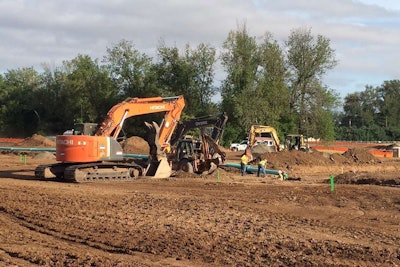 U.S. home starts grew by 6.6 percent during April on gains from both single- and multi-family units, but the year-over-year count is down due to starts on apartments dropping from the April 2015 figure.
Total starts increased in April to a seasonally-adjusted annual rate of 1.172 million. That figure is down 1.7 percent from the April 2015 figure.
Single-family starts rose 3.3 percent from the March figure and are up 4.3 percent from the year-ago figure at a rate of 778,000.
The drop is largely due to a year-over-year decrease in apartment starts of 12.9 percent to 373,000 units. Apartment starts were up 10.7 percent from the March figure and rather than providing evidence of a weakness in the market, the down month is more of an example of how up-and-down multi-family starts were last year.
In February 2015, starts on multi-family units dropped from from a seasonally-adjusted rate of 383,000 to 294,000. By April they were back up to a rate of 428,000 before dropping back down to 360,000 in May and jumping back up to a rate of 513,000 in June. Things calmed down considerably for the remainder of 2015 and the rate has hovered in the high 300ks to low 400ks since then.
Building permits, a good barometer of how the homebuilding industry is trending, rose 3.6 percent during April to a rate of 1.116 million. Permits are 5.3 percent below the year-ago estimate.
"Though housing construction data is relatively flat for the beginning of 2016, we anticipate a ramping up of housing production during the rest of the year, given a strengthening job market, low mortgage interest rates and favorable demographics," said National Association of Home Builders chief economist Robert Dietz in a prepared statement.
For the fourth consecutive month, sentiment toward the housing market was unchanged in April at a reading of 58, according to the NAHB/Wells Fargo Housing Market Index. Any reading above a 50 indicates most home builders believe market conditions are good.
"However," noted NAHB chairman Ed Brady, "builders are facing an increasing number of regulations and lot supply constraints."
"The fact that future sales expectations rose slightly this month shows that builders are confident that the market will continue to strengthen," added Dietz.