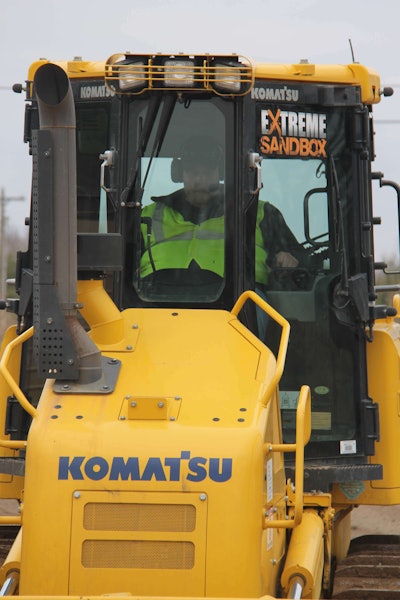 Komatsu has inked a deal with Minnesota-based heavy equipment playground Extreme Sandbox to become that company's exclusive sponsor and equipment provider.
Komatsu sees the growing company, which allows patrons to operate excavators, dozers, loaders and much more in a 10-acre sandbox, as an opportunity not only to expose more Americans to the Komatsu brand but also to heavy equipment operation in general.
Extreme Sandbox was founded in 2012 in Hastings, Minnesota, as a weekend-only operation. But as interest has risen each year, the company will open a second location in Dallas April 15 with openings planned for several more U.S. cities over the next few years. The Hastings location is the no. 1 rated attraction in suburban Minneapolis, according to tripadvisor.com.
In addition to introducing guests such as company retreats and families to the excitement of heavy equipment operation, Extreme Sandbox will also begin offering the opportunity to schedule machine and safety training for high school and college students. The company will also make its sites available for demonstrations and customer appreciation events for local equipment dealers.
Komatsu vice president for product and services sees the partnership as a huge opportunity for the construction industry.
"This alliance is an opportunity to transform these impressive marvels of engineering technology from a roadside and work-zone curiosity into an informative, exciting, hands-on experience. Long term, we hope climbing inside and feeling the comfort, speed and power of these machines inspires a new generation of men and women who are good with their hands to consider careers in the construction industry," Smith said in a statement.
"The construction industry provides great employment opportunities for future operators, technicians and engineers. The degree to which cutting-edge technology will shape the jobsites and careers in the construction industry of the future is a well-kept secret—we want to change that."