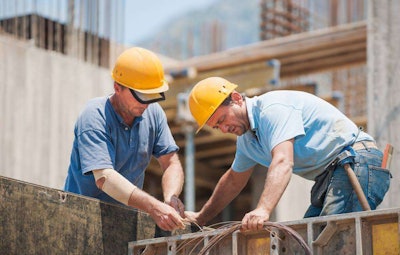 The vast majority of U.S. contractors have voiced a positive outlook for 2016 and are expecting to hire more workers to meet demand, according to a new survey from the Associated General Contractors of America.
Receiving responses from 1,580 construction firms across the country, the AGC's 2016 Construction Outlook Survey found that 71 percent of respondents say they plan to add to their headcount in 2016.
The majority of firms who plan to hire expect to make a small number of additions. Here's how the responses broke down:
Preliminary data released earlier this week by the Labor Department showed a gain in U.S. construction employment of 263,000 workers during 2015, or 4 percent. The industry now employs 6.538 million Americans, the highest mark since January 2009 following nine consecutive months of job gains to end the year.
Though the majority of contractors surveyed said they expected available dollar volume of projects they will complete this year to be the same (47 percent) or lower (9 percent), 44 percent said they expect it to be higher.
The top market where contractors expect a higher available dollar volume was retail, warehouse and lodging, highlighted by 36 percent of respondents. That was followed by hospital projects at 35 percent, private office at 34 percent and multifamily residential at 30 percent.
Here's the full breakdown:

Despite the positive outlook for the year, there were several lingering concerns highlighted by large percentages of the survey's respondents.
More than half of all respondents (52 percent) say the industry's skilled worker shortage continues to impact their business. That was followed by worker quality at 45 percent, increased competition for projects at 43 percent, rising direct labor costs at 40 percent and growth in federal regulations at 39 percent.