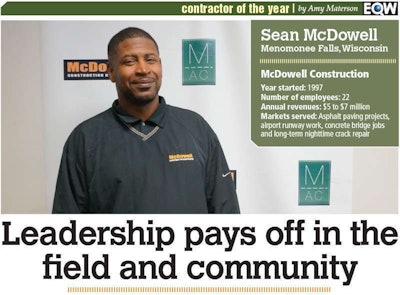 Although different contractors can have vastly different motivators, the successful ones all share a similar internal drive – one that spurs them on to not only provide a comfortable life for themselves and their families, but to also be at the top of their game. For Sean McDowell of McDowell Construction in Menomonee Falls, Wisconsin, another factor is in play – he wants to set the right example for the youth of his community.
As a minority contractor in the Milwaukee area, McDowell feels a high level of responsibility for the children and teens in the area. "So many people in the community look up to me," he says. "Everything I do has an impact and I don't want to let any of these kids down."
In addition to donating time and money – McDowell serves on the board of an organization that works with adjudicated youth. He places a high importance on running his business the right way. In developing the proper relationships and producing quality work that sets his company apart, he employs a philosophy he's used since going out on his own 18 years ago. It's what his clients, his employees, his peers and the community have come to expect.
Laying the roadwork
McDowell was working as a seasonal laborer when a friend referred him to Payne and Dolan, a Waukesha-based asphalt production and construction company. Ned Bechtold, the company's CEO, liked what he saw in McDowell and mentored him as his young protégée gained experience through a combination of on-the-job training and formal classroom instruction.
When McDowell decided he was ready to open his own business, he retained the relationship with Bechtold. His former mentor would use him when he needed a minority contractor on a paving project, and McDowell would purchase his asphalt from Payne and Dolan. The partnership clicked into place and worked well. McDowell's first contract was for $1.6 million. He was on his way.
Throughout the years, the two companies have maintained a good relationship. Even after Bechtold's death in 2014, McDowell continued to purchase asphalt from Payne and Dolan.
Constructing a company
Once McDowell had a lucrative project under his belt, he made the decision to reinvest the money he made back into the company. He formed a board – including Bechtold – of five people he would communicate with on a regular basis; especially when he needed input on a major decision.
Even though McDowell sees the value of speaking with experts, he's very much in control of every facet of the business. Early on, he put a project analysis system in place that enables him to calculate real-time costs on a daily basis and adjust on the fly. Therefore, he knows exactly how much a day's rain, for example, is going to cost him, and is able to immediately put into place a plan to make up any shortfall.
Depending on its needs the company mixes it up with respect to renting versus buying, "We typically buy new equipment and used trucks from dealers," McDowell says. "But I don't ever want equipment sitting in my yard, so we rent as needed."
His on-site shop is managed by his father, Bertram, and his son, Sean II. His wife Nicole, who also has a full-time job outside of McDowell Construction, works part-time for the company, handling a range of back office issues. McDowell's company is a union shop. He relies on three unions to provide highly skilled laborers and operators.
Although there can be challenges with a union-based work force; recruiting, retaining and training labor aren't among them, McDowell says. "The training aspect is key. They really prepare the employees. They have a huge training facility and their employees are second to none," he says.
McDowell gives his employees a bonus to attend OSHA training. During his 17 years of operation he's had no major accidents or workman's comp claims. He supplements the training with his own on-the-job toolbox talks and job-specific safety material provided by his insurance agent. As a result, McDowell has well-qualified employees who perform quality work, safely. The employees receive union protection, prevailing wage and great benefits; something McDowell considers a win-win situation.
A natural progression
Although McDowell Construction was initially engaged only in asphalt work, McDowell says he began to receive requests for concrete work. He resisted it at first, informing potential concrete clients he had no expertise in the field. However, he'd been working frequently with a local concrete company and developed a trusting relationship with one of the company's principals, Mike LaLonde. He'd known Mike and his brother Mark for several years, and Sean reached out with an idea.
Rather than opening a concrete division of McDowell Construction, the three made the decision to form an entirely new company, McDowell Affordable Concrete. The decision allowed McDowell to maintain a controlling stake in the business while reaping the benefits of the LaLonde's concrete knowledge, while at the same time allowing the LaLondes to have a bigger stake in the concrete market. With McDowell's Minority Business Enterprise status, forming the partnership allowed all parties involved to bid on jobs that would have been otherwise out of reach before.
McDowell Affordable Concrete started with some small curb-and-gutter projects, but now tackles a wide range of concrete paving jobs; including bridge work and interchanges. They've been so successful that Mike has joined McDowell Affordable Concrete on a full-time basis; bringing more than 30 years of experience to the company's daily operations. After a year, LaLonde says he's enjoying the experience. "Sean is good to work with as a partner and very bottom-line oriented," he says. "Working in this role has given me more of a variety of tasks, and I like being able to see the scope of the entire business. We have an open channel and we're enjoying growing the company."
Maintaining and building upon the dream
Today, McDowell has long-term relationships with a range of clients, and his expectations are high. His clients also have high expectations of him. McDowell is described by his peers as an upstanding contractor who takes care of his customers. "I've known him since he started in this business," says Todd Hughes of Payne and Dolan. "He takes good care of his equipment, always has what he needs and has no breakdowns. He's a good friend and business partner."
He's also more involved than ever with Milwaukee's at-risk youth. McDowell today devotes his spare time to mentoring young people, and has served on the governor's task force on employment. Tim Cassidy with Northway Fence says he goes above and beyond on community service. "He does a lot of community service work, and is very active in the inner city here in Milwaukee, such as with basketball leagues and the Boys and Girls Clubs." It's all part of McDowell's idea for success, which translates to far more than money. "I never want to fail," he says. "My biggest fear is not getting something accomplished that I set out to do."