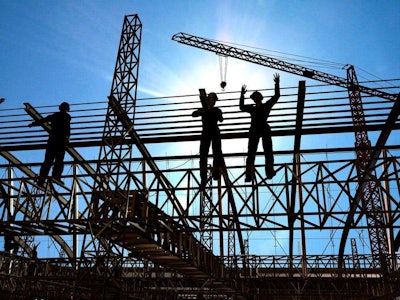 It's OK. You can call it a comeback.
Though much of the talk around whether or not the construction industry has truly rebounded or not has died down in the last six months or so, a new study has highlighted a particularly interesting statistic that points to just how strong the industry's turnaround is.
According to a report from Globe St., an independent analysis of bank reports to the Federal Deposit Insurance Corp. (FDIC) by Chandran Economics shows that banks are currently lending money to construction and development projects at a faster rate than they are for completed buildings.
Chandran Economics is run by Sam Chandran, an adjunct professor in real estate and public policy at the University of Pennsylvania's Wharton School. He tells Globe St. "the balance of construction loans held by banks has grown by nearly 15 percent," as of the first quarter of this year.
Meanwhile, traditional commercial loans have only grown 4.1 percent while multifamily loans grew 12.4 percent.
Even more positive, the default rate for construction loans has dropped to 1.8 percent—the lowest rate since the second quarter of 2007 and quite the turnaround from the 16.8 percent peak rate reached in 2009.
"Setting aside transformative, large-scale development projects in the largest markets, we expect that bank funding for more small- and mid-cap property development will trend higher as conditions in secondary markets support new inventory," Chandran said.