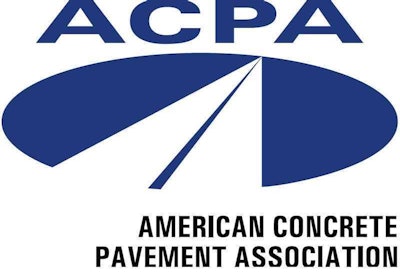 The American Concrete Pavement Association has announced two new initiatives for 2015: The formation of a task force for maintenance of traffic; and plans to explore options for creating a unified pavement design software approach.
The maintenance of traffic (MOT) task force will help create "new information on staging construction and maintaining traffic during concrete pavement projects," said ACPA President & CEO Jerry Voigt in a statement.
The options for concrete pavement construction are often overlooked or misunderstood, he said, which can lead to concrete pavements being "scoped out in the planning process for potential projects."
The concept behind the task force is to "present opportunities to educate people on the myriad of options available; highlight where concrete projects have employed unique traffic management schemes; and develop information to help the speed of construction." Voigt added.
Those wanting to participate in the task force may contact Eric Ferrebee, ASPCA's Technical Engineer, at [email protected].
The pavement design software unification plan is aimed at combining all of ACPA's design method into one program, along with additional features and criteria.
"We're going to explore the development of a pavement thickness design software that will allow an engineer to design any facility, including highways, airports, streets, or industrial pavements from one software program, " Voigt said.
"We will need to determine the challenges and how we may overcome them, as well as the costs of the endeavor, " he added.