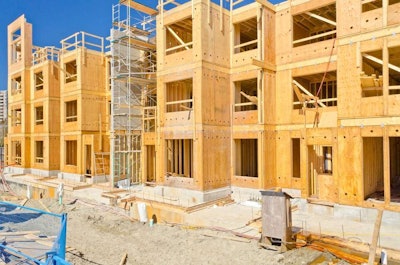 Another down month in August continued what has been a very up-and-down year for construction of new homes in the U.S., largely thanks to the volatility of new apartment starts.
Despite the drop, homebuilder confidence in the market rose to its highest reading since November 2005.
Following a gain of 8.6 percent in July, home starts fell 14.4 percent in August to a seasonally adjusted annual rate of 956,000, according to data from the Commerce Department.
In the report, the July total was also revised, edging up 2 percent from what was previously reported to 1.117 million.
Despite the up and down of the last year, home starts are up 8 percent since August 2013.
For the fourth consecutive month, homebuilder confidence in the market rose, jumping from a 55 to a 59, according to the monthly release of the National Association of Home Builders/Wells Fargo builder sentiment index. Any reading above a 50 indicates most homebuilders believe market conditions are good.
"Since early summer, builders in many markets across the nation have been reporting that buyer interest and traffic have picked up, which is a positive sign that the housing market is moving in the right direction," said NAHB Chief Economist David Crowe in a prepared statement.
However, Crowe noted concern over a lack of activity from first-time home buyers and pointed to tight credit conditions on the consumer side as well as rising materials and labor costs, a set of obstacles facing not only home building but the construction industry as a whole.
While single-family starts have experienced relatively small ups and downs in recent months, the rate of construction on new apartments has been far more volatile. After a huge 51-percent gain in July, construction on new apartments were again a major contributor to August's overall dip in starts falling 31.5 percent to a rate of 304,000. Since August 2013, apartment starts have improved 19.2 percent.
Single-family home starts fell 2.4 percent to a rate of 643,000 but remain up 4.2 percent year-over-year.
Building permits, a good barometer for what to expect in housing as the year goes on, were down 5.6 percent in August to a rate of 998,000. Permits are now up 5.3 percent in the last 12 months.