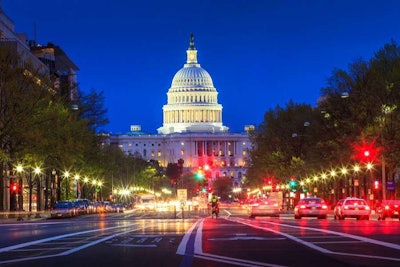 On Tuesday the Senate voted to pass a bill that would stave off the looming insolvency of the Highway Trust Fund (HTF) after making key changes to the legislation that will send it right back to the House for another vote.
The HTF is the primary source of federal funding for road construction and repairs.
The House passed a $10.8 billion bill July 15 and the legislation was expected to continue providing states with highway money through May of next year.
However, the bill was denounced by Democrats and construction industry associations as the latest in a long line of funding stopgaps passed by a split Congress—especially in light of an ongoing push from both groups to pass a long-term solution for funding such as President Barack Obama's proposed $302 billion GROW America Act.
The Senate's changes to the legislation amount to a decrease in its funding. The Senate voted 66-31 to reduce the bill to $8.2 billion. The vote to pass the bill was 79-18.
That's just enough money to fund the HTF through December 19, according to a report from the Associated Press. The strategy behind the move is to pressure the House into eventually finding a long-term funding solution. Specifically, these changes to the bill would fund the HTF only past the November election, after which Congress would be forced to readdress the matter once election-fueled partisan rivalries have subsided.
The House can either pass the bill with the Senate's changes or send it back to the Senate for another vote. However, because Congress' summer recess begins Friday afternoon, the House only has until the end of the week to vote on it.
According to a report from The Hill, Speaker John Boehner said the revised bill has little chance of passing the House. "I just want to make clear: If the Senate sends a highway bill over here with those provisions, we're just going to strip it out," he said.
Should the bill not pass both chambers, the HTF is expected to run dry in late August or early September.