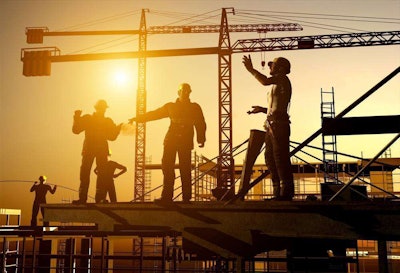 As the construction season rolls on, the workload isn't the only thing that increases.
The amount of hours crews put into a day extends throughout the hotter months, but with longer hours comes the inevitable exposure to UV rays.
Time and time again the topic of sun exposure is addressed in construction firms nationwide, but the question is, how much of that discussion is put into practice out in the field?
The Breakdown
The Department of Labor states that Latinos account for almost one in four workers in the construction industry. According to a recent article from the Skin Cancer Foundation, in the past two decades, there has been a 20-percent increase in the number of Hispanics with an incidence of melanoma.
In 2014 alone, the American Cancer Society estimates approximately 76,100 individual will be diagnosed with melanoma (43,980 in men and 32,210 in women). The organization estimates approximately 9,710 people are expected to die of melanoma (6,470 men and 3,240 women). The Skin Care Foundation reports one person dies of melanoma every hour.
"Overall, the lifetime risk of getting melanoma is about 2 percent (1 in 50) for whites, 0.1 percent (1 in 1,000) for blacks, and 0.5 percent (1 in 200) for Hispanics," the American Cancer Society states.
The Environmental Protection Agency (EPA) has provided a way for individuals to learn about specific skin cancer statistics for every state in the U.S.
What is melanoma?
There are different varieties of skin cancer, and not all of them are as dangerous as the infamous melanoma.
For instance, basal and squamous cell skin cancers are called non-melanomas, which are found on the outer layer of the skin.
The American Cancer Society says these types of cancers can develop on sun-exposed areas of the skin, like the face, ear, neck, lips and backs of the hands. The cancers can be slowly growing but can also spread to other parts of the body. These types can be cured if treated early.
Other rare types include keratoacanthomas, Merkel cell carcinoma, skin lymphoma, Kaposi sarcoma, skin adnexal tumors and sarcomas.
As for melanoma, this cancer begins in the melanocytes, which are cells that produce the skin coloring known as melanin.
Melanoma is almost always curable if detected early, according to the American Cancer Society.
Get informed
If crews decide to battle the sun head on, they will lose every time.
It's important for contractors to share information and get informed about understanding the sun's strength, even down to the very basics.
For instance, everyone knows putting on sunscreen is a basic step in preventing sunburn. However, do you know if you're choosing the right sunscreen?
Always be sure to read the label before purchasing sunscreen and look for the phrase "broad spectrum" protections. This label means the sunscreen can block UVA and UVB rays.
Additionally, "water resistant" does not mean "waterproof", the American Cancer Society states. If a product has this phrase, the manufacturer must put a specific amount of time it works while sweating.
It's also a good idea to read more than just the labels on sunscreen. Check the UV index every day, especially as the summer days get hotter.
EPA provides a UV index from the National Weather Service every day for the country. Be sure to check your area for the week to see how high the UV Index will be, because the UV Index provides the expected risk of overexposure to UV radiation from the sun.
Prevention
Protecting your employees should be your number one goal, and that includes sun safety. Proper sun safety should be addressed at weekly safety meetings.
Here are a some tips from the Skin Cancer Foundation for outdoor workers:
1. Outside jobs can sometimes be done inside or moved to a shady location. A temporary shelter can be erected or trees and buildings used for protection.
2. A shady spot should be available for lunch and coffee breaks.
3. Reorganize the job so tasks requiring outdoor work get done in the morning before 10 a.m. and after 4 p.m., to avoid the hours of greatest sun intensity.
4. Wear protective clothing and cover the skin.
5. Long-sleeved, closely woven shirts and long trousers provide the best protection.
6. Avoid clothes that you can see light through. If light is getting through, the ultraviolet radiation is getting through as well.
7. If shorts are worn, a pair that approaches the knee will offer more protection than a shorter pair.
8. A collar will protect the skin on the back of the neck.
9. Wear a hat and sunglasses
10. A hat will keep the sun off the face, neck and ears. It will also protect bald spots.
11. Broad-brimmed hats are best. The brim should be at least three inches wide.
12. If a lot of bending is required, have a flap on the back of the hat, which will keep the sun off the back of the neck.
13. Hardhats can have a flap or extra brim fitted to them.
14. Use sunglasses or safety glasses that filter out UV rays.
15. Use an SPF 15 or higher sunscreen before going outdoors.
16. Use a water-resistant sunscreen when working with water or when perspiring.
17. Some substances increase the harmful effects of ultraviolet radiation. These include industrial chemicals such as asphalt and diphenyls, and some medications. A water-resistant sunscreen will help give protection when there is likely to be skin contact with these substances.
18. Choose a gel, stick or lotion form of sunscreen according to personal preference; no one form is more effective than another.
19. Reapply sunscreen every two hours. If sweating freely, reapply more often.
20. Make sure the face, lips, neck, ears, arms and back of the hands are protected.
21. Ultraviolet radiation bounces off water, sand, concrete, light-colored surfaces and snow. People who work near these areas will need to take extra care.
Editor's Note: Patty Vaughan is the online managing editor for sister site Total Landscaping Care.