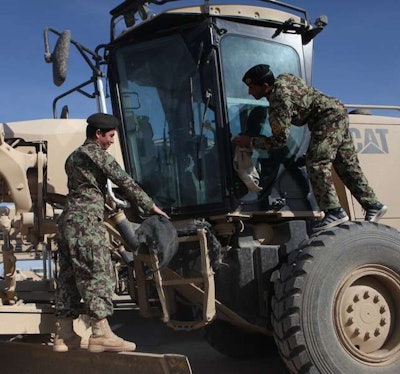 An Afghan National Army 215th Corps Engineer Kandak, or battalion, convoy was making its way back to Camp Shorabak from an operation in Sangin in late July when it struck an improvised explosive device, causing a bulldozer to roll off the trailer carrying it.
The ANA soldiers were able reload the damaged bulldozer and continued the trek back to the regional ANA base. Once the convoy arrived, the soldiers unloaded the bulldozer and assessed the damage: two damaged tires, broken panels and fluid leaks.
"Little things, to us, like fixing tires and oil leaks, are things they didn't know how to do."
Staff Sgt. Marcos Baeza, an engineer advisor with the Engineer Kandak, said the bulldozer was "deadlined and completely inoperative." The Afghan soldiers didn't know what to do, so Baeza and his Marines, subsequently, taught the soldiers how to fix the tires and oil leaks.
"Little things, to us, like fixing tires and oil leaks, are things they didn't know how to do," said Baeza, a Fresno, Calif., native. "We taught them some basics and now they're able to do those things."
This situation and a few others prompted Baeza and his advisor team to develop the Heavy Equipment Maintenance Course, a six-month course designed to certify soldiers as mechanics. The course is not just available to the kandak, but to soldiers within all four of the Corps' brigades. The curriculum also identifies select soldiers to become trainers for future courses.
The Engineer Kandak's primary mission is horizontal engineering, which includes building roads, ditches and airstrips. They utilize everything from bulldozers and scoop loaders to excavators to graders.
Baeza said the heavy equipment operators train daily, if they are not on a mission. The soldiers are capable of building roads, for example, but "only if their equipment is operable," as Baeza put it.
The course is broken into three phases. The first phase covers safety and basic repairs, such as changing oil and tires. The second phase teaches soldiers how to change parts on their transportation assets, such as 7-ton trucks and Humvees. The third phase focuses on what Baeza considers "the most important for the kandak," fixing engineering vehicles, such as bulldozers and scoop loaders.
Afghan National Army Sgt. Jalaal Rasoli, feels the training will bring a sense of pride and partnership to the kandak. He said the work he and other mechanics will do will help enable the operators to conduct work both on and off of Camp Shorabak.
"If we can keep these vehicles operating, then the operators can do the job they're supposed to do. This is a lot of training and I am doing all I can to help," said Rasoli, a mechanic attending the course from 215 Corps' 2nd Brigade based in Sangin district
Afghan National Army 1st Lt. Naqibullah has witnessed the Engineer Kandak make strides in the year he's been the kandak's liaison officer. The three-year ANA veteran is proud of his unit's current capabilities compared to earlier this year.
He recalled a mission when his kandak went to Forward Operating Base Delaram II, in February. Their mission was to demilitarize parts of the base by clearing berms up to 10-feet-high, totaling more than five miles. The soldiers brought only two bulldozers. After a day of work, both bulldozers broke down and the soldiers had to reload the equipment and return to Camp Shorabak.
"One, we didn't think we would need more than two bulldozers for the job," said Naqibullah. "Two, more importantly, we didn't know how to fix the bulldozers if they were to break down."
"…we are all very happy about these Marines, especially the course. Most of the guys were not experienced, but now we are getting better."
Baeza said the bulldozers simply had broken O-rings, which caused fluids to leak. Naqibullah and his soldiers have since learned the importance of preventative maintenance. He said the course is a "big help to his kandak."
"As of right now, we've built many checkpoints in Sangin, Delaram and also helped build things at [Regional Corps Battle School]," said Naqibullah. "Honestly, we are all very happy about these Marines, especially the course. Most of the guys were not experienced, but now we are getting better."
Although taking time to develop and implement the course might sound like it took away from the kandak's overall mission of supporting forward units, Baeza likened this training to heavy equipment operators in the states.
"Back in the states, we do the same thing the Afghan soldiers are doing here, which is sustaining our equipment," said Baeza. "We're here to advise them on how to do their jobs, and this [maintenance course] is part of their job. This is required training they'll need to continue to operate as a kandak."
Baeza does not know if the course will be offered at Camp Shorabak in the future but he emphasized its importance to the future of horizontal engineering in Afghanistan. He said the only way for kandaks to sustain their skillsets is to continue the course with Afghans instructors.
"The way I see it, it's like an advanced course to the basic skills they already know in regards to their job," he said. "It needs to be a continued course, whether it's in Kabul or wherever the case may be. But this has to be some sort of requirement for their [noncommissioned officers] to attend to be able to perfect their job specialties."