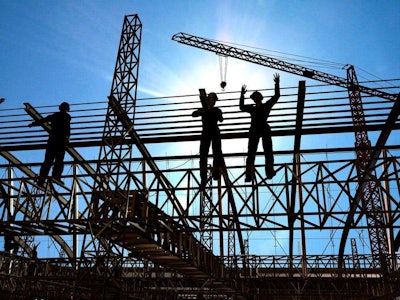 Snapping two consecutive months of increases, U.S. construction spending fell 0.6 percent in June to $884 billion due to larger decreases in nonresidential and government spending.
The decline is the biggest seen in the last five months.
Government construction spending fell 1.1 percent in June to $261 billion—it's lowest level since 2006. Public residential construction saw the biggest decrease in government spending at 2 percent to $6 billion.
Public nonresidential spending fell 1.1 percent to $255 billion. The biggest nonresidential spending decrease was in public safety which fell 3.6 percent to $9.5 billion.
Despite the losses, June's spending total is 3.3 percent higher than it was a year ago at this time, according to data from the U.S. Commerce Department.
Total residential construction spending saw a slight dip of 0.1 percent to $338 billion, but total nonresidential spending fell 1 percent to $545.7 billion.
Of those nonresidential categories, the biggest dip came in religious construction which fell 6.8 percent to $3.3 billion, followed by commercial spending which fell 5.1 percent to $45 billion.
Total private construction spending fell 0.4 percent to $623 billion. Private residential construction was flat for the month, but nonresidential fell 0.9 percent.