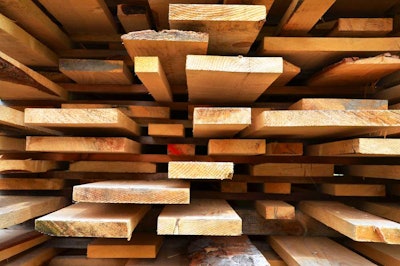 A recent report from the Associated Press details controversy between several states—all but one of which are in the Southeast—and the U.S. Green Building Council over LEED certification of timber growers.
Earning LEED points is of great importance to builders these days. Green construction of nonresidential projects in the U.S. jumped from $3 billion in 2005 to more than $43 billion in 2010. Wood can gain construction projects two credits toward LEED certification: one for using locally-grown wood and another for using timber grown with certified sustainable methods.
The first credit of locally-grown wood isn't an issue. The problem typically comes when contractors building projects in Southeastern states come to a local timber supplier only to find out they are not certified by the Forest Stewardship Council—the lone group LEED uses to certify sustainable growers.
The FSC won't certify timber grown using certain pesticides even though they are allowed by other sustainable certification systems and under U.S. law. LEED and the FSC also discourage replanting forests plantation-style. Popular among Southern growers, the style plants trees in rows like crops.
Consequently, very few Southern timber growers are able to gain FSC, and thus LEED, certification. For instance, Florida, Georgia and the Carolinas each have fewer than 100,000 acres of FSC-certified land. Because of that, many projects choose to buy their wood elsewhere.
Because of these difficulties, Georgia, Maine, Mississippi and Alabama have banned state construction projets from requiring LEED certification in order to protect local growers. A similar measure has passed the North Carolina House and is waiting on a vote from the Senate.
South Carolina hasn't banned LEED certification in state projects but does prevent them from earning points toward certification with sustainable wood. A Florida bill awaiting the Governor's signature requires that state projects use only local wood when possible.
In response, USGBC officials have defended their requirements, saying the controversy has been drummed up by timber groups trying to pass wood off as sustainable when it hasn't been grown responsibly. The USGBC has also reminded the concerned states that wood offers only two of 110 available credits toward LEED certification.