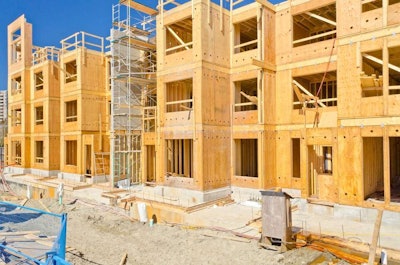 Despite recent dips in construction spending and employment, the mood in the industry is, well, better. Better than it was last year anyway as 151,000 jobs have been added since then, the unemployment rate is down to 13.2 percent and spending is up 5 percent.
As we've noted before, a lot of this has to do with the housing recovery. Home construction spending is up 17.8 percent in the last year to $301.6 billion. Meanwhile, analysts are getting excited as they expect home purchases to increase along with mortgage interest rates and home prices.
And some investors, as noted in an excellent editorial from Canada's paper of record The Globe and Mail, see a recent surge in rental property construction as a good thing for the housing and construction recovery as well. But Sheryl King sees things a bit differently.
King notes that historically, rental properties have been seen as an "inferior good" because the demand for such properties increases whenever the nation's average income decreases. She argues that for the U.S. to see "a truly sustained housing recovery, the pool of first-time home buyers needs to increase."
Unfortunately, that's going to be tough. For starters, the number of first-time home buyers is at an all-time low: 30 percent, which is 10 percent lower than normal. Second, due to the recession, most young Americans, who make up the majority of first-time home buyers, simply don't have the careers, income or savings to buy a home.
King explains that the average nest egg for young Americans is $6,000—nowhere near enough for a 20-percent down payment on a home—and most simply don't have good enough credit or the type of career that lenders and the Federal Housing Authority like to see when opting to forego that big down payment in favor of mortgage insurance.
Another problem? Student debt. That number is only getting higher and as King notes, defaulting on student debt could be a death blow for a young person's hopes of landing a mortgage.