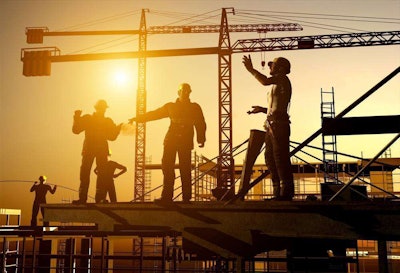 After riding a four-month streak of employment gains to the highest total employment the industry had seen in nearly four years, the construction industry lost 6,000 jobs in April, according to new data from the U.S. Labor Department.
Despite the loss of jobs, the industry's unemployment rate continued to fall, dipping to 13.2 percent. The March unemployment rate was 14.7 percent.
In all, American construction companies employed 5.79 million people as of the end of April. In March the number stood at 5.796 million. In the last six months, the industry has added 141,000 jobs, only slightly lower than the 154,000 added in the last year.
After adding a six-year-high 48,000 jobs in February, job growth slowed considerably for the industry in March when only 18,000 jobs were added. The slowed growth leading into April's loss of jobs is sure to concern analysts for the prospects of the rest of the spring, especially when combined with the recent dip in construction spending at the hands of reduced government building.
Despite that, April's job loss was not nearly as pronounced as the loss that preceded it in November when 20,000 jobs were lost.
As for the country as a whole, news was better than expected. Though analysts only expected and addition of 140,000, the U.S. economy added 165,000 jobs in April and the unemployment rate dropped to 7.5 percent, the lowest rate in four years.