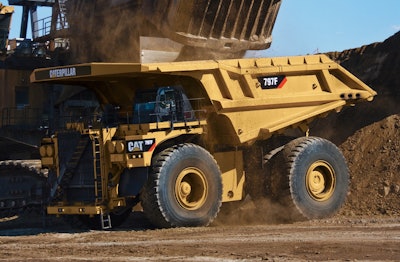 Despite current challenges the company is meeting in the country, Forbes.com's Great Speculations blog says China will drive Caterpillar's long term growth.
The blog points out the high interest rates in the first half of 2012 that impacted Cat. Then there are the recently-announced steps the Chinese government is taking—such as a 20 percent capital gains tax on sales of existing homes and increases in down payments and home loan rates—to surpress rising home prices in the country.
However, China's urban population is rising rapidly as people there migrate from rural areas to cities. Right now, only 50 percent of people in China live in urban areasThe post says this urban migration will ensure investments in construction, mining and power sectors for "years to come" in China, thereby heling Cat greatly.
The post also points out that China's contribution to Cat's worldwide sales doubled to 26 percent in the decade between 2003 and 2012.
Caterpillar employs 15,000 people across China and has been expanding greatly in the region as of late, opening two new factories in China earlier this year.
The first is the Asia Pacific Proving Ground facility which serves as a hub for validation and product development services for all Cat machinery made in the region. The large wheel loader manufacturing facility, located in Tongzhou, Jiangsu Province, serves Cat's quarry and mining applications in China and growth markets.
In June 2012, the company purchased China-based ERA Mining Machinery Limited. In January the company reported that it had uncovered accounting misconduct at Zhengzhou Siwei Mechanical & Electrical Manufacturing Co., a manufacturer of roof-support equipment for coal mines. The company took a $580 million non-cash charge, but still reported record profits for the year.