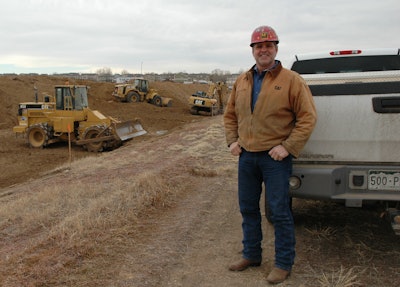 With a company he built from the ground up starting in 1987, Michael Thibault's T-Bone Construction in Colorado Springs was going full speed ahead when the recession hit.
As a builder of commercial and industrial buildings, truck maintenance facilities, and car and truck dealerships, Thibault was hit with a double whammy. The big customers quit building and the credit markets froze making it difficult for anybody to pay anybody.
If there wasn't any money moving, Mike at least had a lot of equity in the relationships he had built over the preceding decades. "On ethics, he's an 11 on a scale of 1 to 10," says customer Brad Edwards of Bradley Motors. "When times were tough, he could have taken an easy road out, but he didn't try to take advantage of anyone. He's someone you can work with when you have problems, because when you build, you always have problems."
Dan Rial, of Rial Heating, a subcontractor had this to say: "He goes out of his way to make sure subcontractors get paid, even though he's gone through hard times like everyone else. He's loyal. He doesn't go around getting every lowball bidder. He stays with a team. "
"He's a phenomenal guy, extremely responsive, quick to return a phone call, makes sure everything gets resolved," says Bob Furgeson, general manager for the Transwest GMC dealer. "We're very picky and he delivered a great product. We were running our business when this was going on and they did a lot of work overnight to avoid interfering with our business. He made time to meet with GM's upper level management, and found ways to meet their requirements and save money."
With satisfied customers like these, even the worst recession in a century couldn't hold back T-Bone Construction. Mike kept pitching for the business, expanding his client base out of state and taking on more of the earthmoving on his projects and when the jobs started trickling back in, the company was well positioned to grow.
Thanks to a couple of big, multi-year jobs just recently signed, T-Bone Construction will break a new sales record in 2013 and again in 2014.