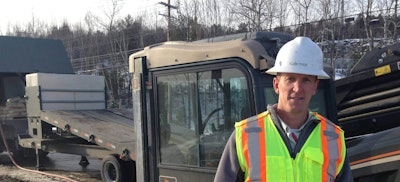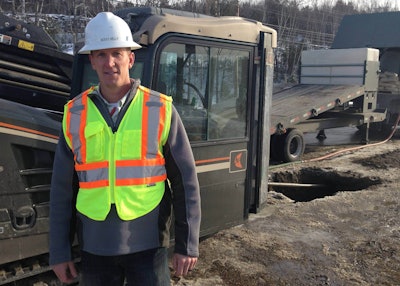 Scott Kelly, President of Enterprise Trenchless Technologies Inc., has been named Equipment World's 2013 Contractor of the Year.
ETTI serves the New England directional drilling, electrical, and fiber optic installation markets. Kelly received his prize during a ceremony Saturday night in Las Vegas.
Kelly was one of 12 contractors from all over the country nominated for the award. Each of the finalists participated in an industry roundtable this weekend and are the special guests of program sponsor Caterpillar at the NASCAR Kobalt Tools 400 race today at the Las Vegas Motor Speedway.
Kelly hails from Lisbon Falls, Maine, where he runs ETTI next door to Enterprise Electrical, the business his father James started in 1968, now run by his brother Jeffrey.
ETTI actually began as a part of Enterprise Electrical and split off as its own company in 1996. Thanks to Kelly's will to succeed and a business philosophy that takes great strides in including his employees in the direction the company takes, ETTI now brings in annual revenues between $5 million and $7 million.
But Kelly and his father nearly didn't start the business at all.
"This is not the business for us." That's what Scott Kelly remembers thinking in 1995, the first time he saw horizontal directional drilling in action during a demonstration in Shrewsbury, Massachsetts.
Kelly's father James began researching HDD a year before so the two were very interested in seeing the relatively new technology in action. Suffice it to say the dealer's demonstration didn't go as planned.
But before Kelly and his father could leave, the dealer demoing the equipment convinced them to drive to Providence, Rhode Island for one more look. But this time an experienced crew would be at the helm of the drill. What they saw was an effortless fiber optic installation that was over and done with by the early afternoon.
Needless to say, Kelly reconsidered.
He borrowed money from his father to buy a Ditch Witch JT3510 and trenchless utility installations became a side business for Enterprise Electric, the company Kelly's father started in 1968. "Nobody my age would have been able to get that type of loan on their own without a good credit history," Kelly says.
They spent their first winter advertising the new endeavor and depended greatly on word of mouth.
"It was a challenge at first to get going," Kelly says. "It was a new technology that a lot of people weren't familiar with. If it weren't for our track record on the electical side, we would have had a much harder time develping that comfort with our clients."
In 1996 the family decided to spin it off into its own company and Enterprise Trenchless Technologies Inc. was born. Kelly says the company ran around 60 projects in its first year, after a shot in the arm from fiber optic installations for Fontenn in Portland and Westbrook.
Since then, Kelly says ETTI has enjoyed sales increases and a growth in contacts each year except 2005. The company brings in between $5 million and $7 million each year.
And while ETTI certainly played a role in pioneering the technology in New England, they are far from without competition today. Thus, success for the company has not simply been the result of a good decision 18 years ago.
Instead, it has come as the result of determination on Kelly's part to the best. For ETTI, success is a stew constantly being tasted, its recipe scrutinized and tweaked in order to find the best combination of ingredients.
"Never in my wildest dreams did I think I would be in this business but I found something I love to do," Kelly said recently during a visit with Equipment World magazine at his office.
Kelly feels it's important to not only ask the best of his 38 employees but also of himself. Employees are encouraged to lead safety discussions and offer up any ideas to Kelly of how the company can improve its operations. "Nobody is smarter than all of us together," Kelly says.
In addition, employees are paid referral bonuses for bringing in other quality employees and they're compensated for any new ideas they bring to the table, especially those that the company can patent. Kelly also provides his workers with and their families with a two-level gym, accessible 24-hours, with as much equipment as you might find at a Planet Fitness.
He looks at is as a molding process that takes a great deal of investment, but which leads to innumerable payoffs in the end. "I want to be the kind of company that when someone looks at us, they say, 'I want to be like that,'" he says.