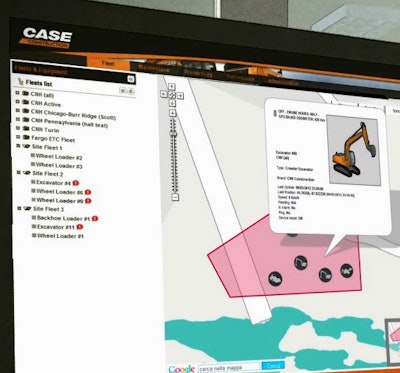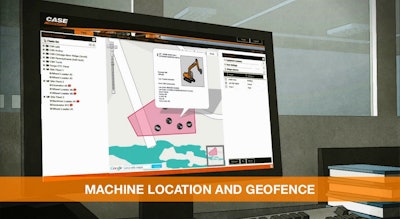 Case today announced through its website the launch of its first telematics solution SiteWatch. The company says SiteWatch delivers vital machine performance data "to any computer, any time, anywhere."
Case touts standard telematics features with SiteWatch, including the ability to reduce excessive idling in order to save on fuel, theft recovery and prevention, maintenance scheduling and automatic alerts to prevent problems before they occur.
The main advantage Case says SiteWatch offers however is the ability to monitor your equipment from anywhere. The company says SiteWatch delivers complete diagnostics before even visiting a machine as well as keeping constant track of your equipment's exact location.
SiteWatch uses an on-board modem to collect and store performance data including: location, productivity, fuel efficiency, maintenance needs, operating health parameters, and motion detection.
It delivers 12 parameters for each machine, including standard J1939 data. The operator can choose eight of these parameters from a selection of around 40 on each machine. Case says the SiteWatch server keeps track of up to 18 months of data at any given time.
SiteWatch also brings Case dealers into the mix, allowing them to help manage your fleet and proactively schedule maintenance.
In terms of the SiteWatch software, operators can choose between a Basic subscription and an Advanced subscription.
A Basic subscription provides:
Fleet Management: Locates machines and provide machine hour reporting.
Planned Maintenance: Tracks scheduled maintenance intervals.
Security: Set a geofence for each jobsite and a machine curfew.
Utilization Analysis & Reporting: Provides machine idle time, travel time and general utilization>
An Advanced subscription provides the above plus the following:
Performances Analysis: Allows you to easily load engine data and identify operation trends.
Fuel Information & Reporting: Provides fuel consumption data and allows you to track fuel use.
Machine Health Parameters: Delivers accurate temperatures, pressures, Can-Bus data, and alerts for out-of-range parameters.
The company says slect heavy equipment models will come standard with a 3-year Advanced subscription to SiteWatch beginning this year. Case dealers will also be able to retrofit any piece of equipment with SiteWatch.
Be sure to check out the video below.
[vimeo 58855119 nolink]