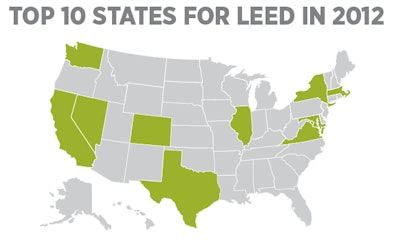 The U.S. Green Building Council has released its Top 10 States for LEED in 2012 list and Washington D.C. regins supreme.
The rankings might look a bit odd considering some states are ranked lower than others even though they had more projects certified and/or more total square feet certified for the year. The U.S.G.B.C. ranks the states per capita, by dividing the number of LEED project square footage by the state's population.
D.C.'s 36.97 square feet per person ranked no. 1 by a wide, wide margin with no. 2 Virginia coming in with 3.71 square feet per person. However, Virginia had far more LEED projects certified in 2012 at 170, compared to D.C.'s 110, and more total square footage certified at 29.7 million compared to D.C.'s 22.2 million.
Thought it lags behind in the per capita rankings at no.9, California is by far the biggest producer of LEED certified projects and square footage. California had 540 LEED projects certified in 2012 and 54.3 million square feet.
You can see the full list below.
The U.S.G.B.C. reports that 1,908 total projects were certified in 2012 and 235.5 million square feet.
Of the top 10 ranked states, LEED for schools saw the highest increase in certifications at a 75 percent uptick. Second was new retail construction at 67 percent followed by retail commercial interiors at 51 percent.
Washington D.C.: 110 projects certified, 22.2 million sq. ft. certified
Virginia: 170 projects certified, 29.7 million sq. ft. certified
Colorado: 99 projects certified, 10.6 million sq. ft. certified
Massachusetts: 106 projects certified, 13.4 million sq. ft. certified
Illinois: 156 projects certified, 24.9 million sq. ft. certified
Maryland: 127 projects certified, 11 million sq. ft. certified
New York: 214 projects certified, 34.4 million sq. ft. certified
Washington: 133 projects certified, 10.5 million sq. ft. certified
California: 540 projects certified, 54.3 million sq. ft. certified
Texas: : 224 projects certified, 36 million sq. ft. certified
Nevada: 29 projects certified, 3.7 million sq. ft. certified