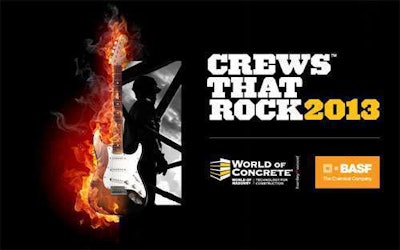 World of Concrete (WOC) has announced the top winners of its "Crews That Rock 2013" contest. Each crew will receive an airline credit and hotel stay for WOC 2013 in Las Vegas, Nevada, plus other prizes and WOC swag.
In the Commercial/For-Profit category, Hampton Commercial Construction won for the company's Nebraska City Power Plant Silo Footing entry. According to the crew's entry, the project consisted of a 25-foot by 25-foot footing poured on top of a grid of 18-inch concrete pilings drilled to a depth of 100 feet to bedrock below, with reinforcing cages made of no. 6 rebar.
PULLMAN/Shared Systems Technology won for its 10 Light Street Facade Restoration entry. The Ten Light Street building is located in downtown Baltimore, Maryland, and stands 37 stories, measuring 360,000 square feet. Constructed in 1929, it is considered the first skyscraper in Baltimore.
In the Community Service/Not-For-Profit category, StoneMakers won for the company's Giving Back To Those Who Have Served (Veterans For Veterans) entry. StoneMakers cleared and created a new yard with wall, patio, water feature, outdoor kitchen, bridge, fire pit, log effect bench and more for an Iraq War veteran and his family.
Chasco Constructors won for its The Play For All Abilities Park entry. Chasco donated labor and materials for the concrete, earthwork and underground utilities for the park, which will provide a safe place to play in Round Rock, Texas, and develop new skills for children of all abilities.
BASF sponsored the WOC Crews That Rock 2013 contest.
View all the results by clciking here.