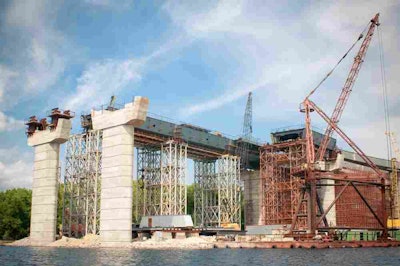 The average age of the 600,000 bridges in the United States is 43 years old, according to a new report from the Washington Post. And considering that bridges are built to last about 50 years, that means a great deal of them will soon need to be replaced.
In fact, as the Post reports, 70,000 U.S. bridges were deemed "structurally deficient" last year. And yet, there are still more worrying numbers.
According to the American Association of State and Highway Transportation officials, maintaining U.S. bridges will cost $13 billion for the next 50 years alone. Currently, the U.S. spends $54 billion on roads, bridges and transit systems each year – combined.
The biggest number though? It would cost $140 billion to repair every deficient or obsolete bridge in the U.S.
This could be seen as a great opportunity for the transportation construction market. Bridges must be maintained or we risk choking off a trucking industry that has done nothing but grow in size an importance for the past few decades.
And while some activity may be generated through the maintenance of bridges, the real need is for many of these bridges to be completely replaced. And as SBI's recent report detailed, bridge and tunnel construction dropped 4.4 percent between 2009 and 2011 and only slight growth is expected through 2014.
That's because the vast majority of funding available will go toward maintaining existing structures in most states rather than building their replacements. The thing with old bridges though is that as they get older, they get more and more expensive to maintain.
So, over time, maintaining the now-decaying bridges will be more expensive than building new ones. And it's long-term projects like bridge replacements that the transportation construction market badly needs.
Though federal loans are available to states, the more likely method of generating more funding for these infrastructure improvements is an increase on tolls and to the gas tax, the Post reports.